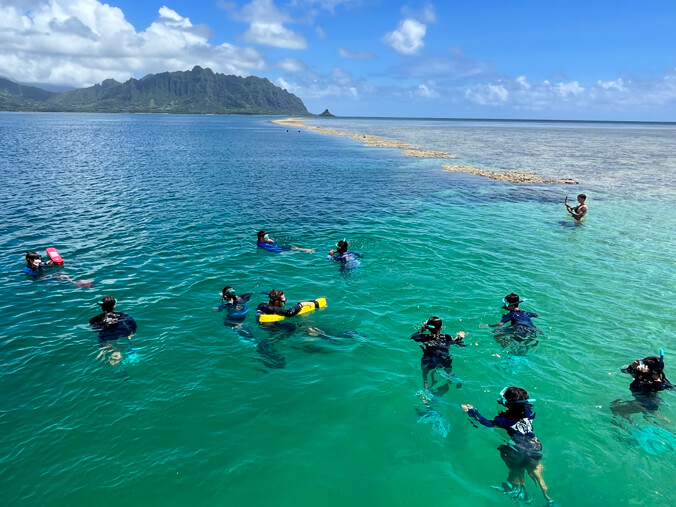 A marine science summer program developed by the University of Hawaiʻi at Mānoa Hawaiʻi Institute of Marine Biology (HIMB) is celebrating 10 years of serving Hawaiʻi's high school students and recent graduates. Since its inception in 2013, the Research Experiences in Marine Science (REMS) program has increased access to marine science fields for about 150 participants, of which approximately 60 have continued on to higher education. This year's program ran from June 5–July 14.
"My experience at REMS has opened my [prospects] for what I want to do in the future, I now have another option and opportunity," said Kaissen Poepoe, 2023 REMS student and rising junior at Waiʻanae High School.
This summer's REMS cohort included 22 high school students and recent graduates. The high schools represented in REMS this summer include student who attended: James B. Castle High School, Kahuku High and Intermediate School, Kapolei High School, Waiʻanae High School, Kalani High School, Mililani High School, University Laboratory School, Hālau Kū Māna Public Charter School and Kamehameha Schools.
"I came into this program not certain of what I was going to get out of it," said Jayse Uyehara, a Waiʻanae High School rising senior. "But after these six weeks, I leave with a smile on my face, knowing there is a place where people are looking for ways to help our community. Whether it be studies on fish or [bringing] back cultural practices, it is just beautiful knowing the people here are determined to help our communities with marine science."
REMS focuses on marine conservation-driven science that incorporates Hawaiʻi's unique ecology and culture to better engage local high school students and recent high school graduates in STEM. During the program, students participate in field- and laboratory-based science modules and conduct research alongside professional scientists, science educators, and near-peer mentors who encourage the students to explore solutions to environmental challenges through research questions developed in partnership with community.
"Developing meaningful and authentic opportunities for Hawaiʻi's students that inspire and sustain their interest in STEM pathways is essential for overcoming some of the barriers to access that continue to hinder diversity in STEM fields," said Malia Rivera, REMS principal investigator and faculty specialist at HIMB.
From participant to mentor
Seaenna Correa-Garcia's first immersive experience with marine science was at 16 years old as a Mililani High School junior in 2015. Her experience in REMS became the catalyst in choosing to pursue marine science as a career. Now in the UH Mānoa's Marine Biology Graduate Program, Correa-Garcia currently serves as a graduate student instructor in REMS.
"My hope in continuing this journey is that I could serve as a mentor for students similar to the mentors I had, which helped bring me to where I am today," said Correa-Garcia.
Correa-Garcia became an undergraduate marine science student in California and would return home during summers as an undergraduate mentor for REMS. In 2017 and 2018, she served as mentor for more than 50 REMS students, assisting participants in the design and execution of their research projects, and providing overall program support.
"Playing an active role as a student leader, mentor and undergraduate intern within REMS, I had the opportunity to help promote and experience professional, academic, and personal growth within myself and each student," said Correa-Garcia. "My involvement within REMS specifically has been the inspiration for my future aspirations in marine science conservation and education."
Coming full circle
Since 2013, more than 20 UH graduate students have served as instructors, and ten undergraduate interns, most having participated in REMS as high school students, have assisted in running the program.
In her graduate studies, Correa-Garcia is working to integrate Native Hawaiian Indigenous knowledge of native limu in restoration efforts within ancient Hawaiian fishponds with the newly developed aquaculture institute at Waikalua Loko Iʻa, a partnership with the Pacific American Foundation and UH Sea Grant.
"After completing my graduate education, I hope to continue working with local high school students, fostering educational pathways specifically in place-based education, marine science research and conservation," said Correa-Garcia. "I hope to pursue a PhD degree and eventually would like to become a leader of a program such as REMS."