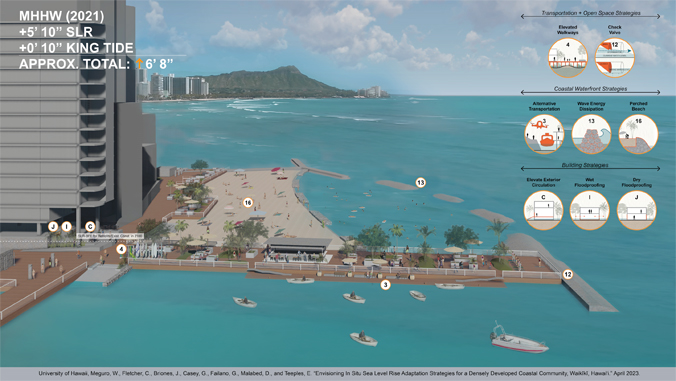 Waikīkī is the economic hub of Hawaiʻi's tourism industry and is threatened by flooding from sea-level rise, king tides, groundwater inundation, overflow of the Ala Wai canal and more. In an effort to address these challenges, an interdisciplinary academic research team from the University of Hawaiʻi hosted a virtual interactive discussion in June with 220 people in attendance for Envisioning Sea Level Rise Adaptation Strategies for Waikīkī, Part III.
This marks the third public presentation of sea-level rise adaptation strategies for prototypical low-rise residential and high-rise residential and commercial buildings. The team depicted adaptation strategies in the years 2050 and 2100 for a beachfront study site at Fort Derussy U.S. Army Museum and Waikīkī Shore Condominium.
The renderings show potential flood adaptation options for coastal and open space areas, transportation, utilities and a high-rise mixed-use building.
"This project is a great opportunity to educate and inform the community of the future of our coasts, infrastructure and the environment," said Gerry Failano, a UH Mānoa School of Architecture graduate research assistant. "Working with people from different backgrounds has taught me a great deal of the need to work together to address the effects of sea-level rise and climate change in Hawaiʻi and around the country."
A mix of professionals and community members participated in the discussion, including government employees, urban planners, consultants, architects, Hawaiʻi residents, land and business owners, hotel and restaurant industry stakeholders, and those with cultural or historical interests.
"The diverse perspectives allowed for a dynamic environment to brainstorm innovative solutions for our collective future," said Georgina Casey, a School of Ocean and Earth Science and Technology (SOEST) climate resilience specialist focusing on sea-level rise. "This project has allowed me to think critically about new possibilities and how we can envision a resilient future for Waikīkī."
"I think this type of cross-disciplinary pollination of ideas has great potential to drive implementation forward for a more resilient Waikīkī," said Eric Teeples, a doctor of architecture student.
Merging science, design
This research merges science with design to create conceptual architectural renderings to visualize sea-level rise adaptation strategies. The goal is to encourage discussion, contribute to design guides, pilot projects and new policies to prepare the community for future flooding.
"By prioritizing sustainable design and interdisciplinary research, this project contributes to a larger purpose of creating a resilient community and drives meaningful change," said Josephine Briones, a climate change adaptation specialist.
"We are grateful for the participants' feedback on each adaptation strategy as the renderings sparked conversation of prioritization, coordination, cost, and phasing," said Wendy Meguro, the principal investigator for the project, and an associate professor with a joint appointment in the UH Mānoa School of Architecture and Hawaiʻi Sea Grant.
"Sea-level rise is an all-hands-on-deck issue that asks us to imagine our best futures, and work collaboratively to achieve them," said Chip Fletcher, co-investigator and interim dean of SOEST. "The coastal cities of tomorrow will not look like the cities of today, now is the time to design, fund, and implement our dreams."
Additional contributors include Desiree Malabed, a bachelor of environmental design student; rendering tutors Chris Lomboy and Andrew Tang; and design reviewers from Hawaiʻi Sea Grant, Melanie Lander, Dolan Eversole and Eileen Peppard. This research is a collaboration between the School of Architecture, Environmental Research and Design Laboratory; Hawaiʻi Sea Grant, Center for Smart Building and Community Design; SOEST, Climate Resilience Collaborative.
For more information, presentation slides, and recordings visit the Hawaiʻi Sea Grant project website. An updated project booklet and participant feedback report from the June 2023 webinar will also be available soon.
This research project is an example of UH Mānoa Strategic Plan goal to leverage our research strengths to lead the response to pressing issues facing the state and region in sustainability and resilience.