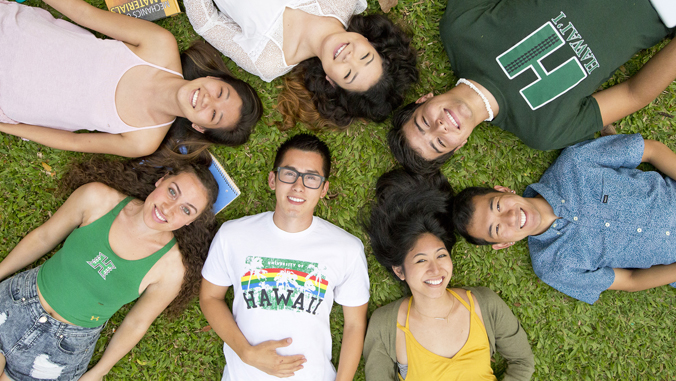 A total of 51,063 students enrolled in the University of Hawaiʻi ten-campus system this fall, down 1.2 percent from fall 2017. It is the smallest overall decrease in the six years following the great recession, when UH hit record high enrollment. UH Mānoa, is a huge bright spot, with a record setting incoming freshman class boosting the student body size to achieve the first increase after five consecutive years of decline.
"We continue to head in the right direction," said UH President David Lassner, who also serves as the interim chancellor at UH Mānoa. "We have made great strides at UH Mānoa, and Kauaʻi CC is another success story this year. However, there remains a challenge with the strong economy, particularly at our community colleges. Hawaiʻi needs a more educated workforce and citizenry, and we have to get more students enrolled, keep them in school and graduate them on time."
Three campuses—UH Mānoa, UH West Oʻahu and Kauaʻi Community College—saw increases in enrollment while seven campuses—UH Hilo, Hawaiʻi CC, Leeward CC, Windward CC, Honolulu CC, UH Maui College and Kapiʻolani CC—saw decreases in enrollment.
Record freshman class for UH Mānoa
UH Mānoa welcomed 2,209 first-time freshmen to campus this semester, the largest freshman class in the universityʻs 111-year history and 12.8 percent more than the previous fall semester. It breaks a record set just two years ago as UHMānoa has has been intensifying its efforts to recruit locally and beyond.
"We have really been focusing on Hawaiʻi high school students, and itʻs paying off because this record freshman class includes a 10 percent increase in local students," said UH Mānoa Associate Director of Admissions Ryan Yamaguchi. "We have dramatically increased our engagement with local high school counselors, our physical presence on campuses and increased communications and marketing initiatives with students and parents."
Kauaʻi

CC sees biggest enrollment increase

Kauaʻi Community College experienced the largest enrollment growth of any UH campus, with a 10 percent increase to 1,486 students. Kauaʻi CC Chancellor Helen Cox credits two things for the increase.

"We really had a strong campaign of reaching out to our high schools on the Garden Isle," said Cox. "That included bringing seniors to campus and helping them enroll, right there, on the spot, along with assisting them in filling out the federal financial aid forms and exploring their possible areas of interest. And we really increased the number of Early College classes offered at our public high schools and charter schools. We have more than 500 students in Early College this year."
UH West
Oʻahu

continues nationally recognized growth

UH West Oʻahu continued to grow with a 1.5 percent increase for a total enrollment of 3,128 students. For the second year in a row, UH West Oʻahu was ranked top in the nation as the fastest-growing school of its type in the nation. The Chronicle's Almanac of Higher Education 2018–19 listed UH West Oʻahu as leading enrollment growth among 86 public baccalaureate-granting institutions.

"Much of our growth is attributed to the hard work of our faculty and staff who develop unique academic programs and learning experiences that prepare our graduates for 21st Century careers," UH West Oʻahu Chancellor Maenette Benham said. "We anticipate that our numbers will continue to grow and continue to work diligently to improve student success."
Fall 2018 enrollment
UH System—51,063 students (-1.2 percent)
UH Mānoa—17,710 students (+0.6 percent)
UH Hilo—3,406 students (-3.8 percent)
UH West

Oʻahu

—3,128 students (+1.5 percent)
Other campuses battle the environment and a strong economy
Faced with worldwide news and images of Kīlauea's eruption causing destruction on the island, and then flooding from Hurricane Lane during the first week of classes, UH Hilo saw a 3.8 percent decrease in enrollment to 3,406 students. The campus did, however, recruit a freshman class almost as large as they did last year, in spite of these major local disruptions and worldwide bad press.
Despite Kauaʻi CCʻs jump in enrollment, overall enrollment at the seven UH community colleges is down 2.3 percent. The biggest competitor for the community colleges continues to be the strong labor market and record low unemployment.
"We will continue to to work to get more people, including returning adults and other non-traditional students into our community colleges," said Lassner. "We need to make sure that people can pursue their education to advance in their careers while they work. We are enormously grateful to the State for supporting the new Hawaiʻi Promise program, which removes the cost of tuition as a barrier to a community college education in our state."
The Hawaiʻi Promise Scholarship is available to all qualified students with need and covers the unmet costs of tuition, fees, books and supplies.
More from underrepresented ethnic groups
The university continues its success in enrolling traditionally underrepresented ethnic groups to the proportions of their populations in the state.
Native Hawaiian or part Hawaiian—23.6 percent of student body, 21.3 percent of the state population
Filipino—14.7 percent of the UH student and state population.
Pacific Islander—2.4 percent of the student population, 2.1 percent of the state
UH has received national recognition for its diversity, ranking in the top 10 in the U.S. for greatest racial and ethnic diversity among four-year and two-year institutions, according to The Chronicle of Higher Education's 2018 Almanac diversity rankings.