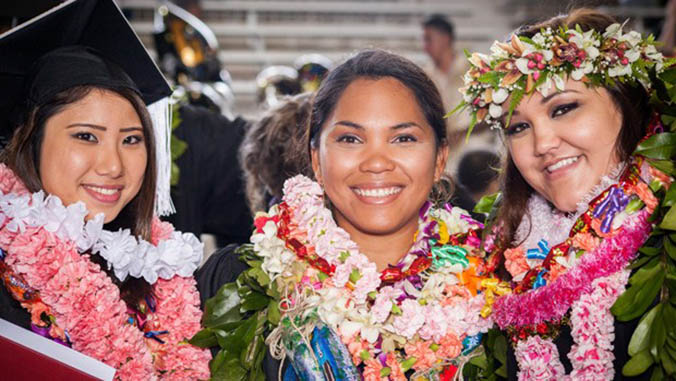 The University of Hawaiʻi 10-campus system is participating in a new effort in which 130 public universities and systems have begun work together in clusters of four to 12 institutions to increase college access, close achievement gaps and award hundreds of thousands more degrees by 2025.
The Association of Public and Land-grant Universities (APLU) is organizing the collaborative effort, known as Powered by Publics: Scaling Student Success. APLU had recognized UH Mānoa last year with the national Project Degree Completion Award for Mānoa's work improving graduation outcomes at the institutional level.
The new Powered by Publics initiative represents the largest ever national-scale collaborative effort to move the completion agenda forward. Collectively, Powered By Publics participants enroll 3 million students, including 1 million economically challenged students who receive Pell Grants. In addition to committing to common student success goals, participating institutions have pledged to share aggregate data demonstrating their progress to help spur lasting change across the higher education sector.
"The University of Hawaiʻi looks forward to working collaboratively with other institutions to increase college access, equity and completion," said UH President David Lassner, who attended the Powered By Publics kickoff meeting at the APLU Annual Meeting last weekend. "Our faculty and staff have made a tremendous difference already, and when we partner with like-minded institutions we can learn not only from our own experiences but from those of others."
UH is part of the Western Region cluster which intends to focus on strategies to: increase success in the first two years of college; identify and remove barriers to student progress; and help individual faculty to be even more effective partners in student success efforts.
"Over the past few years, we've witnessed a real and growing enthusiasm among public university leaders to advance college completion nationally," said APLU President Peter McPherson. "We have to seize the moment and mobilize institutions to improve not just college access, but also equity in student outcomes and the number of students who earn degrees."