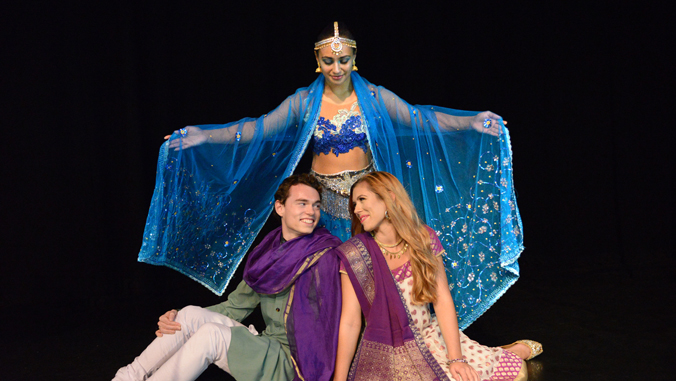 Shakespeare's most popular comedy meets the high-energy song and dance of Bollywood as magic rules the forest and mischievous creatures play havoc with everyone's love life. The University of Hawaiʻi at Mānoa Department of Theatre and Dance presents A Midsummer Night's Bollywood Dream at the Kennedy Theatre mainstage February 1, 2, 8 and 9 at 7:30 p.m. and February 10 at 2 p.m.
The play is co-directed by Paul Mitri, professor of theatre and dance, and Sai Bhatawadekar, associate professor and director of the Center for South Asian Studies. Original music and lyrics are composed by Ike Webster and Bhatawadekar, who is also the production's dance choreographer.
Mitri sums up the plot of A Midsummer Night's Bollywood Dream with a quote from the play, "The course of true love never did run smooth."
"The statement couldn't be more perfect for Bollywood love stories," said Bhatawadekar. "In both A Midsummer Night's Dream and Bollywood films, fantasy and reality exist in the same space."
The Department of Theatre and Dance's Asian and Western theatre programs are collaborating on this show. "Each of our programs are trying to find new ways to work together to show students the limitless possibilities theatre provides," said Mitri. "It does not have to be just Western performance, or just Asian performance; it can be both together."
The production allows UH Mānoa students to bridge disciplines. A Midsummer Night's Bollywood Dream features a large multi-cultural ensemble made up of undergraduates, graduates and members of the community.
Shakespeare's works have been a source of inspiration for Hindi films for decades. Adaptations of plots from Macbeth, Hamlet, Othello, Romeo and Juliet, A Comedy of Errors and others have shown in cinemas in India for more than 50 years.
Tickets for A Midsummer Night's Bollywood Dream are on sale online, by phone at (808) 944-2697 and at official outlets. Ticket sales at the box office are available Monday through Friday, 10 a.m.–1 p.m. with extended hours on show days.
See the Kennedy Theatre website for ticket prices and more information.