Sai Bhatawadekar, an associate professor from the University of Hawaiʻi at Mānoa College of Arts, Languages, and Letters, who teaches Bollywood dance, film, and Hindu-Urdu languages, garnered national recognition and rave reviews for her choreography. Her work — RRegh — represented UH Mānoa at the American College Dance Association (ACDA) and was selected by the ACDA judges from among submissions from universities and colleges across the country. It was shown at its nationwide Virtual Gala Concert on May 1, 2022.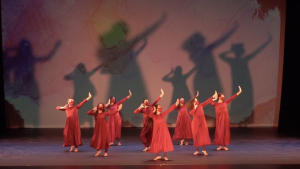 Her choreography, RRegh, which tells a story of trauma and loss, grief and its overcoming, begins with Indian folk movements and transitions beyond cultural or stylistic boundaries. The piece, inspired by three original poems written by Sai herself and set to a cello composition written by Nawahineokalaʻi Lanzilotti (East-West Center Arts Program), struck such a profound chord with ACDA judges who called it striking, epic, and expressed feeling ties to their own Indigenous roots.
"It's been wonderful to see all the varied interpretations…It also means a lot to me to hear that the reviewers were moved… that it reminded them of ancestral impulses," Bhatawadekar explained. "I am genuinely very grateful to the students, composer, production designers, crew, and faculty for their talent, commitment, and support in the process of creating this piece."
Students Anna Asano, Thomas Gillard II, Kira Magnuson, Ryoko Natt, Kawika O'Connor, Ritu Krishna Raju, Annaliese Wirsching and Allan Zablocki performed the submitted chorgeograhy. Brainstorming ideas, songs, and movements began in September 2021 and the piece evolved as the dancers rehearsed.
"In the beginning some of the students were online as they were getting vaccinated," said Bhatawadekar. "They zoomed in. The students are so talented; they made it look easy to learn over Zoom. But of course, it was much better when we were all together in the dance studio physically."
And the beat goes on for Bhatawadekar who is in the middle of choreographing various pilgrimage folk traditions from her native region of Maharashtra in India. This, all while teaching Hindi, Urdu, as well as a Bollywood Dance, Music, and Film course every semester at UH Mānoa. She plans to debut a new dance piece in November 2022 on Kennedy Theatre's mainstage for an upcoming concert, Form Within a Form.
This work is an example of UH Mānoa's goal of Enhancing Student Success (PDF), one of four goals identified in the 2015–25 Strategic Plan (PDF), updated in December 2020.
Related UH News stories: