Headcount enrollment at the 10-campus University of Hawaiʻi System decreased by about 2 percent in the fall 2019 semester compared to fall 2018, from 51,063 students to 49,977 students. Nine of the 10 UH campuses saw reductions in enrollment, reflecting the national trend of declining enrollment since peak highs following the 2008 recession. Windward Community College is the only UH campus to see an enrollment increase with 2.4-percent growth.
"We continue to refine our analytics to understand very specifically our enrollment successes as well as shortfalls," said UH President David Lassner. "In spite of the challenges in competing with a strong labor market, we performed well in many key areas including first-time freshmen, rising four-year graduation rates and continued early college success. We need to do more to increase student recruitment, retention and transfer within the system."
2019 Headcount Enrollment
UH System—49,977 students (-2.1 percent)
UH Mānoa—17,490 students (-1.2 percent)
UH Hilo—3,372 students (-1 percent)
UH West Oʻahu—3,049 (-2.5 percent)
UH Community Colleges—26,066 students (-2.8 percent)
Hawaiʻi Community College—2,615 students (-0.6 percent)
Honolulu Community College—3,510 students (-0.9 percent)
Kapiʻolani Community College—6,488 students (-6 percent)
Kauaʻi Community College—1,373 students (-7.6 percent)
Leeward Community College—6,568 students (-2.1 percent)
UH Maui College—2,992 students (-3.2 percent)
Windward Community College—2,520 students (2.4 percent)
Nationally, colleges and universities have averaged a 7 percent drop in enrollment from 2010 to 2017.
Low unemployment and cost
Enrollment continues to be impacted by a variety of factors including the near record low unemployment rate as prospective students opt to forgo school and enter the strong labor market. Traditionally, this movement has a much greater impact on community colleges.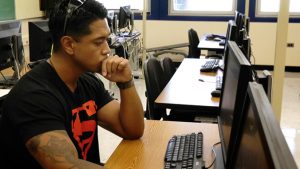 Even though the UH System is among the most affordable in the country, the cost of education is another hurdle for current and prospective students and their families. The university is asking the state legislature to consider funding an expansion of the Hawaiʻi Promise Program to include the three UH four-year universities. The Hawaiʻi Promise Program supported 1,378 UH community college students this past academic year, which may have contributed to the increase in first time students.
The university system awarded 11,299 degree and certificates last academic year, 0.7 percent higher than the previous academic year. Overall, the UH System is graduating more students than it is bringing in, which accounts for some of the reductions in campus enrollment.
Recruitment remains a top priority
Student recruitment continues to be a top priority as more colleges and universities from the continential United States continue to expand recruiting efforts in the state. UH Mānoa, UH Hilo and UH West Oʻahu have contracted with EAB Enrollment Services to enhance existing student recruitment efforts. The system helps engage prospective students, throughout high school starting in their sophomore years, through multiple communication platforms. The positive impacts of the EAB campaign are expected to increase over the next 2–3 years as those sophomores become college-ready.
UH campuses also continue to forge direct partnerships and outreach with area high schools along with other efforts such as increasing the recruitment of non-traditional students. UH Community Colleges also launched an online Associates degree program, added new online course options and have worked to provide childcare facilities on campus along with other childcare options for students.
UH is also launching a statewide media campaign in mid-October to remind all Hawaiʻi residents that there is a place for everyone within the diverse 10-campus UH System. The campaign will support and enhance the student recruitment efforts of all the individual campuses.
UH Mānoa
One factor in UH Mānoa's slight decline in enrollment is the continued steady rise in the campusʻs four-year graduation rate, which has doubled in eight years. More students are graduating in four years, which lowers their cost of higher education.
UH Mānoa welcomed its second straight class of more than 2,000, first-time freshmen, 189 students shy of last year's record of 2,209. The campus saw an 8 percent increase in first-time freshman from out of state and a 2 percent increase in graduate students.
UH Hilo
UH Hilo is continuing its success recruiting first-time freshmen, welcoming 450 students in fall 2019, an 8.7 percent gain over last fall. The campus saw a 11.8 percent growth in new transfer students, and saw the freshmen retention rate hit a record high 72.7 percent, 6.7 percent better than last fall.
The Hilo campus saw a 1 percent drop in enrollment, 34 students fewer than fall 2018. UH Hilo has been steadily improving its four-year graduation rate, which has nearly doubled since 2011.
UH West
Oʻahu
After 12 years of strong growth, UH West Oʻahu experienced a 2.5 percent decrease in enrollment this year. The campus has enacted a strategic recruitment plan that includes, contracting EAB Enrollment Services, continuing efforts to strengthen relationships with area schools and community groups, as well as renewed efforts to recruit non-traditional or returning adult students and transfer students from the community colleges.
UH Community Colleges
The seven UH Community Colleges enrolled 26,066 students in fall 2019, a 2.8 percent drop from fall 2018. There are, however, areas of growth in community college enrollment:
The community colleges saw a 1.7 percent increase in first-time freshmen (4,160 students). Six out of seven community colleges saw an increase in this important category. This included an increase in 25-44 year olds enrolling for the first time; first-time enrollment of these students increased by 14 percent (2,335 students).
Enrollment of first time students between the ages 25 and 44 years old increased by 14 percent (2,335 students).
New online options launched in January 2019 included five-week accelerated courses (about 1,180 registrations for fall 2019) and AA degrees that can be earned entirely online (54 students in the first cohort). The expanded online programs provides both traditional and non-traditional students the flexibility to pursue their education while working or caring for children or elderly relatives.
Two-thirds of community college students attend part time and pursue education and training while working.
Record number of dual credit students
Enrollment in dual credit programs offered by UH's 10 campuses is at an all-time high with 3,252 participating high school students. Dual credit programs include Early College, Early Admit and Jump Start and allow high school students to take courses and earn both college and high school credits.
Research shows that there is a positive correlation between dual credit participation and college access, college persistence and readiness for college-level coursework, particularly for students who are underrepresented in higher education.
The latest information on the 2018 public high school graduates is encouraging. Of the graduates who earned dual credit, 45 percent enrolled in UH immediately after high school graduation (22 percent at a UH four-year school, 23 percent at a UH community college) with 31 percent enrolling at out-of-state schools. Of the graduates without any dual credit, 32 percent enrolled in UH immediately after graduation (10 percent at a UH four-year school, 22 percent at a UH community college) with 17 percent enrolling at out-of-state schools.
Success at Windward Community College
Windward Community College is the only campus to see an increase in enrollment. Windward is welcoming its largest freshman class in three years and is experiencing a large increase in returning adults.
"We trace our student recruitment success to our strong partnerships with area high schools and the community college system's initiative to target returning students," said Windward CC Chancellor Ardis Eschenberg. "We did see a decrease in continuing students but preliminary research shows that many graduated or transferred, which is our goal!"