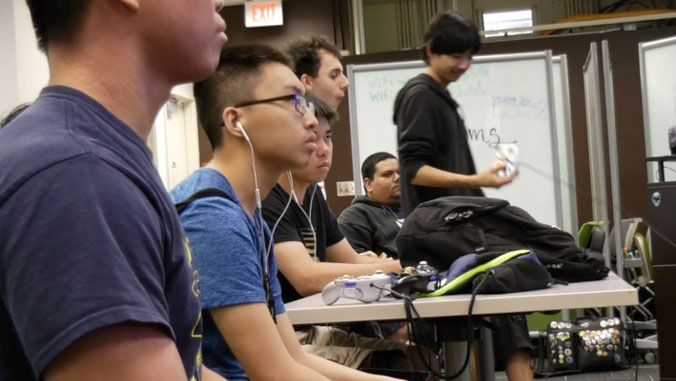 With the rising popularity of esports, colleges and universities nationwide are picking up on the esports club trend where gamers not only compete against each other, but against other college teams as well. The University of Hawaiʻi at Mānoa team is gaining recognition in the largest collegiate league.
Leading the charge in the arena of esports at UH Mānoa is Nyle Sky Kauweloa, a graduate assistant at the School of Communications in the College of Social Sciences. Kauweloa, along with Kevin Nguyen, a UH Mānoa communications graduate, who now works full time as UH's esports program assistant. UH esports runs 5 teams across 2 games which are Overwatch and League.
The UH collegiate esports team, which is competing in the 2019 League of Legends Collegiate Starleague (CSL) tournament, recently received honorable mention in the CSL rankings and was noted as one of four teams in the Southwest region that remains undefeated after three weeks of regular season play. The other teams are from the University of California, Irvine (UCI), University of New Mexico and California Polytechnic State University, San Luis Obispo.
"It's really amazing given that this is our first time competing—ever in an organized tournament, and we are mentioned along with UCI," said Kauweloa.
Kauweloa also teaches a course, Esports and Society, the first of its kind at UH Mānoa. The course covers the rising popularity and significance of the growing esports industry.
The University of New Mexico and UH will go head-to-head on January 18, 2020, competing in the next round of the tournament. From there, the top teams from each division will find out on February 8, 2020, who they will move on to play on the bracket stage. The schedule can be found here.
Interested students can follow the team's Instagram and Twitter, or email uh.esports@hawaii.edu.
More on Collegiate Starleague
Collegiate Starleague is the world's first collegiate gaming organization. The league has grown to more than 1,800 aggregate universities and 55,000 cumulative active players.
CSL runs leagues across multiple titles and platforms and has awarded more than $400,000 in scholarships to deserving college gamers.