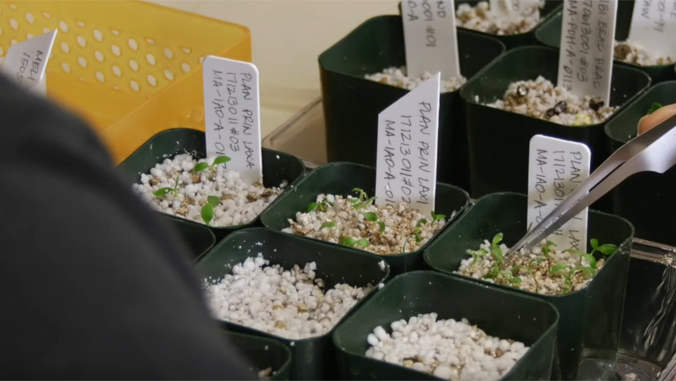 The University of Hawaiʻi at Mānoa Lyon Arboretum's efforts to protect threatened native plant species serve as a model for other areas of conservation concern.
The Hawaiian Rare Plant Program (HRPP), which started in 1992, utilizes multiple strategies including maintaining seed banks, conducting plant tissue culture, housing small greenhouses and maintaining living plant collections, all on the arboretum's grounds. These techniques were recently featured in an article published in the journal Biological Conservation.
"We were really excited to have the opportunity to publish in such a respected journal. For our topic to be considered worthy of publication, it is quite humbling," Nellie Sugii, HRPP Manager, said.
"I am thrilled to have had the opportunity to work with Nellie Sugii and all the collaborators on this paper to synthesize knowledge on approaches to Hawaiian plant conservation, and to detail how the HRPP is a critical component of the Hawaiian plant conservation network," said Leland Werden, Lyon Arboretum postdoctoral research fellow and lead author of the article.
The arboretum has also created long-term partnerships with more than 25 organizations to assist in these conservation efforts.
"The HRPP could not work without the partnerships it has forged over the years with state and federal agencies and many different NGOs," Lyon Arboretum Director Rakan Zahawi said. "Each plays a critical role in the overall conservation strategy—whether that is procurement in the field, monitoring of critical populations or outplanting in newly established protected habitats."
The article also highlighted Lyon Arboretum's decision tree, which is based on the results of conservation efforts across Hawaiʻi. The decision tree helps conservation groups decide which is the best method to increase the chances of a plant's survival. Experts also say that the decision tree highlights areas of future research to understand factors limiting processes, including seed germination.
"The multifaceted nature of this tree highlights that integrating a large suite of conservation approaches under the same roof, such as at the HRPP, or across broad networks of conservation groups, greatly increases the chances that conservation will succeed both locally and globally," Werden said.
The decision tree also provides recommendations for approaches that are currently being explored at Lyon Arboretum. These include cryopreservation, or the storage of living plant tissue in liquid nitrogen, and pollen storage, which seeks to complement the arboretum's existing seed storage program.
—By Marc Arakaki
Related UH News stories: