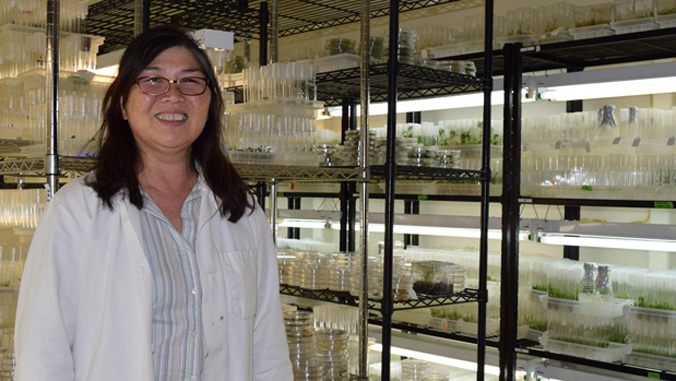 An expert who has dedicated her life's work to research and saving hundreds of native plants from extinction is retiring on May 31, after a 35-year career at the University of Hawaiʻi.
Nellie Sugii managed the Hawaiian Rare Plant Program (HRRP) at UH Mānoa's Lyon Arboretum for 25 years, and most recently served as Lyon's interim director for the past two years.
"You have to have the support of others to be successful and I was lucky to have that." —Nellie Sugii
"Working at Lyon Arboretum, that's a dream job for me, having this creative freedom to develop a program and working with committed and talented partners," Sugii said. "You cannot do everything by yourself. You have to have the support of others to be successful and I was lucky to have that."
HRRP focuses on the rescue and recovery of Hawaiʻi's most critically endangered native plants. Under Sugii's leadership, it has grown to feature a seed conservation lab, which contains more than 33 million seeds representing more than 600 taxa of Native Hawaiian plants, and a micropropagation and cryopreservation lab, which has successfully grown approximately 300 of the 1,400+ Hawaiian plant taxa using micropropagation techniques, of which 136 are federally listed as endangered or threatened.
Defying the odds to save
Hawaiʻi

's plants
When Sugii first started, conservation of plants using tissue culture techniques ex situ (protecting an endangered species outside of its natural habitat) for research and germplasm storage (seeds, plants or plant parts) were virtually unheard of.
"It was a really novel propagation technique for plant conservation at the time so it took a lot of convincing," Sugii said. "And I have to hand it to my predecessor Greg Koob. He really laid a good foundation with some very successful results in plant culturing and recovery that when I transitioned into this position, some of the kinks had been worked out."
One of Sugii's first grants were from the State of Hawaiʻi Department of Land and Natural Resources-Division of Forestry and Wildlife and the U.S. Army Natural Resources, and it allowed her to gain the necessary resources and connections she needed to kickstart her success. A couple of decades later, Sugii remembers most about the impact the program has had on the state.
"How many people get to work in a career that you have a feeling that you give back to the community or give back to the environment or give back to the place that you live in?" Sugii said. "To do conservation work with plants like this and to be able to make a contribution in that way, I consider that this is a job that I really wanted to be in."
Sugii added, "Every plant is important because not only do they have a right to exist but they have a place in the plant community and within the environment itself—they serve a purpose. The more you can save, the better for Hawaiʻi."
Sugii's wishes for the future
Prior to Lyon, Sugii worked for 10 years in the UH Mānoa College of Tropical Agriculture and Human Resources as a research associate and focused her research on orchids and anthuriums. She earned her bachelor's and master's degrees in horticultural science from UH Mānoa.
After leaving the arboretum, Sugii hopes Lyon's staff and our future generations will continue the work her team started to save Hawaiʻi's native plants for decades to come.
"There is what is called 'plant blindness' where you just look at the mountains and it's all green, everything is all okay. But it's not," Sugii said. "There are a lot of invasive species out there that make the soils unstable, or there are dangers like the albizias or they harbor insects that are bad for the environment. Being part of the group that benefits the environment, I was lucky to be a part of it."
UH Mānoa School of Life Sciences Professor Donald Drake will serve as Lyon Arboretum's new interim director, effective June 1.
—By Marc Arakaki