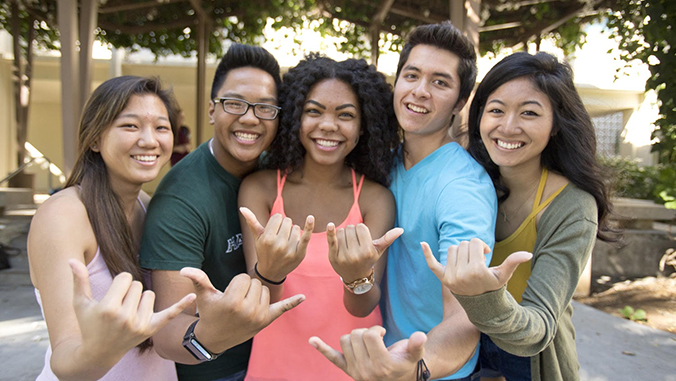 Several University of Hawaiʻi at Mānoa programs received high marks from U.S. News and World Report in its recently-released 2021 Best Graduate Schools rankings.
The 2021 edition evaluates graduate schools on a variety of factors, including research activity, expert assessment scores, acceptance rates, standardized test scores and grade-point averages of incoming students.
"We are gratified that the U.S. News and World Report rankings affirm the excellence that UH Mānoa graduate programs continue to achieve in a wide range of disciplines. The national recognition is a testament to the efforts of our faculty, staff and students," UH Mānoa Provost Michael Bruno said.
John A. Burns School of Medicine
The John A. Burns School of Medicine (JABSOM) ranked No. 56 in primary care out of approximately 180 best medical schools in the U.S. JABSOM is rated higher than Icahn School of Medicine at Mount Sinai, University of California-Irvine and University of California-Riverside. In the research category, JABSOM ranked No. 62, tied with the University of Arizona-Tucson, University of Kansas Medical Center and the University of Nebraska Medical Center.
In addition, the medical school led the nation the past five years in producing Native Hawaiian and Pacific Islander physicians, and has a larger proportion of faculty who are women than 91 percent of other medical schools, according to data recently released by the Association of American Medical Colleges. Read more at the JABSOM website.
School of Nursing and Dental Hygiene
The School of Nursing and Dental Hygiene ranked No. 74 among 170 schools considered in the doctor of nursing practice rankings. U.S. News also ranked UH Mānoa nursing No. 99 out of 173 schools, for best online graduate nursing programs in 2020. In fall 2019, the Commission on Collegiate Nursing Education has reaccredited the UH Mānoa master's and doctor of nursing practice, and nursing baccalaureate degree programs through 2029.
William S. Richardson School of Law
The state's premier law school, William S. Richardson School of Law, ranked No. 96 among 205 American Bar Association-accredited law schools, tied with University of South Carolina, and ahead of Syracuse University, Seattle University and California Western School of Law. The school's environmental law program ranked No. 30 out of 190 programs and the part-time law program ranked No. 31 out of 75.
The law school remains in the nation's top tier, with one of the best ratios of students per faculty at 4.5, good for No. 5 in the nation. Read more at the law school website.
Shidler College of Business
The part-time master of business administration program (global MBA, 36-month plan) at the Shidler College of Business is ranked No. 106 among 272 part-time MBA programs that qualified for the ranking. The part-time MBA program is the only Association to Advance Collegiate Schools of Business International accredited program in Hawaiʻi and one of the few MBA programs in the U.S. with a true Asia-Pacific focus.
College of Education
The College of Education continues to be ranked among the best graduate schools in the nation. The college ranked No. 69 of 255 schools considered, tied with University of California-San Diego, and ahead of University of California-Santa Cruz and Colorado State University.
For the past 15 years, the college has been among the top 100 education programs and remains at the top for funded research, securing more than $19 million in contracts and grants in 2019.
Nationally accredited since 2000, the College of Education is recognized for its programs throughout the year. Most recently, the BEd in special education (SPED) was featured in a 2020 Best Colleges list by GradReports and the MEd in SPED was cited for best stipend availability by Intelligent.com. In the same publication, the MEdT in secondary education was listed as one of the best field-based programs and the MEd in learning design and technology was among the highest for alumni recommended.
College of Social Sciences
The public administration program at the College of Social Sciences ranked No. 101 out of 275 public administration programs considered. The master's of public administration program is the state of Hawaiʻi's only Network of Schools of Public Policy, Affairs and Administration accredited program, offering an 18-month accelerated, two-year full-time and three-year part-time plan.
For more information on rankings, visit Mānoa Institutional Research Office.
—By Marc Arakaki