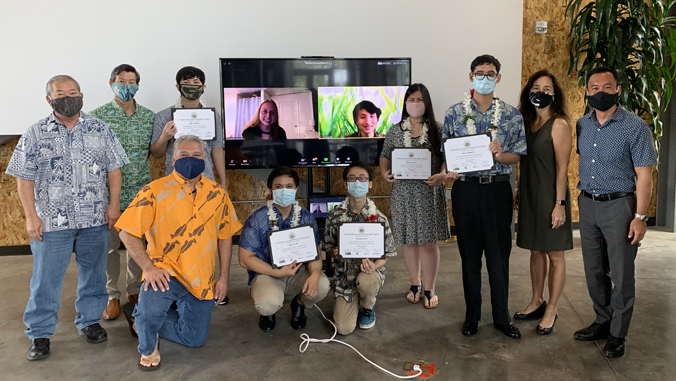 University of Hawaiʻi at Mānoa engineering students are receiving more opportunities to design and develop solutions to address real-world problems. They are part of industry-integrated courses built into revamped curricula.
"Our goal is to expose our students to more real world challenges, with real problems needing real solutions that can impact them right here at home," College of Engineering Dean Brennon Morioka said. "Hopefully this also helps to nurture their passion for engineering and become more committed to their roles as problem solvers and leaders right here in Hawaiʻi. And the external sector partners who are mentoring these students also play a huge role in connecting our students to the next phase of their lives."
Community Innovation Mentorship Program
Seven undergraduate computer engineering students tackled a software development project with industry experts in spring 2020. They assisted the Hawaiʻi State Department of Agriculture's Animal Quarantine unit to develop a new check-in process and queuing method, featuring two large monitors and an iPad-driven kiosk station, that allows the staff to utilize electronic devices to guide the processing of pets and pet owners.
The team spent five months improving existing inefficiencies of the check-in process and discovered innovative solutions involving programming frameworks and methodologies, user authentication, technical architectural and database design, middle-tier business logic and front end UI/UX frameworks.
"Over the course of the five months, we not only learned about MySql back-end and Angular 8 as a front-end framework, but we also developed practical knowledge to take with us along the journey into becoming computer engineers," said Jake Castillo, a senior computer engineering student. "With COVID-19 in place, the challenge only got harder, but we worked remotely as a team and found ways to communicate more effectively without being able to meet in person."
"When the project was completed, I felt very rewarded to be a part of such a program," said Christine Ramos, a junior computer engineering student. "From meeting our mentors for the first time, to installing the hardware in the facility and testing out the solution, I am glad to say that these past five months were nothing short of an amazing learning experience."
"It was encouraging to watch the successes and progress from the hard work of the UH students and mentors," said Isaac Maeda, administrator of the Animal Industry Division and state veterinarian.
This was made possible through the Community Innovation Mentorship Program, a collaboration between the College of Engineering, State of Hawaiʻi Department of Agriculture, DataHouse, Transform Hawaiʻi Government and Hawaiʻi Technology Development Corporation.
Using AI to identify dental disease
Graduates students in EE 616, taught by Assistant Professor Il Yong Chun, created a breakthrough resource in the dental industry. Through a partnership with Hawaiʻi Dental Service, students used image pattern recognition and machine learning to develop, train and test artificial intelligence (AI) systems that can identify dental radiographs by those that do and do not indicate dental disease. The software may help to assist dental insurers in identifying inaccuracies in insurance reporting.
"With the healthcare prices in the U.S., there is a huge incentive to leverage recent advances in technology, particularly machine learning to reduce the price and time it takes to get accurate test results," said Moseli Motsoehli, a computer science graduate student. "The project was a good way for us to use state of the art scientific methods on a real-world problem."
—By Marc Arakaki