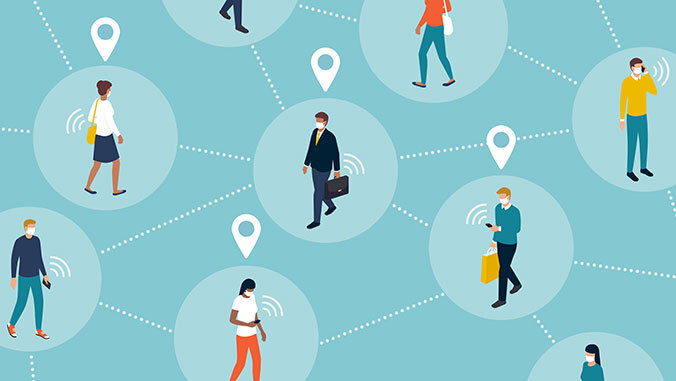 Track 2 of the University of Hawaiʻi-Department of Health (UH-DOH) COVID-19 Contact Tracing Training Program started this Monday, June 15. The first cohort for Track 2: Community Contact Tracer Training consists of 31 individuals participating in the six-week intensive program, co-led by UH West Oʻahu Associate Professor of Health Science Ricardo Custodio and Assistant Professor Camonia Graham-Tutt.
"This is an innovative and unprecedented training opportunity and our overall goal is to train participants to be competent, effective and caring community contact tracers who are empathetic communicators," said Custodio.
"The expectation is that when called upon, they will serve their communities, especially if they are from a Neighbor Island or underserved Native Hawaiian, Filipino or Pacific Islander community."
Track 2 participants require an undergraduate degree and can also earn college credits.
The two courses that are part of the Track 2 curriculum integrate the national contact tracing plan from Johns Hopkins University with emphasis on training that is community- and team-based, focused on underserved populations.
"Students enrolled in the Track 2, Cohort 1 group come from extremely diverse backgrounds," said Graham-Tutt. "They all want to be of service to the community as a solution."
The cohort includes retired professionals from health-related fields, those interested in public health with no previous background, graduate students, small business owners, as well as individuals who have been furloughed due to the pandemic.
Over the next year, the Track 2 program will have seven cohorts of students, ultimately training a workforce of 250.
Training for Clinical Healthcare Professionals
The overall UH-DOH program launched June 8 with Track 1: Contact Tracing Training for Clinical Healthcare Professionals, administered by UH Mānoa's School of Nursing and Dental Hygiene.
More than 100 health professionals with clinical backgrounds in nursing, medicine, social work and pharmacy will have completed the program by Saturday, June 20. These individuals are prepared to be called into service should DOH need to activate them.
The highly interactive, one-and-a-half day program includes a series of short lectures, group activities, simulation with live actors and ongoing knowledge check in sessions. Applications for participation in the program far exceeded the number of available seats.
Track 1 program lead Kristine Qureshi said, "The success of this program has been made possible due to the close partnership, support and collaboration with staff of the Hawaiʻi Dept. of Health Disease Outbreak Control Division; the vision and support of UH senior leadership; and the program support team and faculty. All groups have come together to support the health of our community."
Augmented training for Community Health Workers
The third part of the UH-DOH partnership is augmented Community Health Worker (CHW) training, which begins in fall 2020. CHWs reach and support high-risk communities and work closely with contact tracers to manage disease outbreaks in those communities. The program aims to train 100 individuals to become CHWs over the next year. It is a 16-credit UH certificate program for candidates who have earned a high school diploma or GED. The CHW program is being spearheaded by Kapiʻolani Community College in partnership with the UH System's other community colleges.
The UH-DOH COVID-19 Contact Tracing Training Program is part of the state's response to the pandemic. If there is a surge in the number of COVID-19 cases in Hawaiʻi beyond the contact tracing capacity of the DOH, those who complete the program may be called to serve as contact tracers for the state. Completing this training program does not guarantee employment. However, an expectation of the program is that all completers will join the DOH's Medical Reserve Corps (volunteer pool).
Interested candidates for Track 2 or CHW training can get more information and sign up online or email oshi@hawaii.edu specific questions. Neighbor island residents are especially encouraged to sign up.