The University of Hawaiʻi's Community Health Worker (CHW) program at Kapiʻolani Community College, which trained nearly 130 students statewide this past year to help in the response to the ongoing pandemic, has received $313,000 through a federal grant to train additional students in the coming year.
The Hawaiʻi State Department of Health (DOH) awarded the new funding to UH, made possible through a grant from the Centers for Disease Control and Prevention, which can be renewed for two years. DOH partnered with UH in May 2020 to train CHWs as part of the DOH-UH Contact Tracing Training Program and UHealthy Hawaiʻi initiative.
"This collaborative effort with DOH enhanced health outreach in high-risk communities affected by COVID-19. The updated CHW curricula by Kapiʻolani Community College in 2020 prepared our graduates with the skills needed to support DOH with COVID-19 response efforts. Now there is increasing demand to hire CHWs in the community to improve the quality of the health and lives of these disadvantaged populations," said Aimee Grace, UH System lead of the DOH-UH program and director of UHealthy Hawaiʻi.
"The COVID-19 pandemic has emphasized the important role community health workers play in educating Hawaiʻi residents. Growing Hawaiʻi's pipeline of community health workers will create resilience far beyond this pandemic. This new grant is another important step towards integrating community health workers into the workforce, and we are proud to continue our partnership with the University of Hawaiʻi in this critical endeavor," said Danette Wong Tomiyasu, deputy director of health resources at DOH.
More training opportunities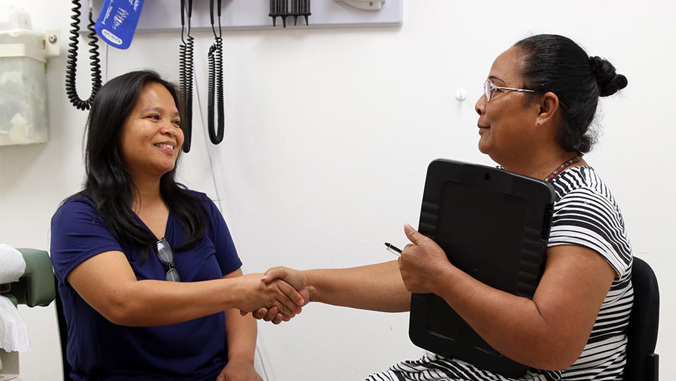 The CHW program at Kapiʻolani CC is a 16-credit curriculum that offers part-time cohorts. New classes start in the fall and spring semesters, with a possible summer start to be determined. UH Maui College also runs the program every other year. This new funding will train an additional 30 students per year with a focus on recruiting bilingual and Native Hawaiian, Pacific Islander and Filipino students whose communities were most impacted by COVID-19. The training program will also work with employers to place new students in practicum opportunities to facilitate a broad range of skills in graduating classes.
"The new award gives us the opportunity as a state to continue to train new CHWs and to provide training opportunities for our practicing CHWs as our health needs shift during the pandemic and change over time. We want to see every community in Hawaiʻi have access to CHWs to provide services so we all can benefit from the important work they do," said Joey Dewater, CHW program manager at Kapiʻolani CC.
Program officials will communicate with employers and CHWs statewide on the program's updated curriculum and provide any additional training workshops. The program will also support employers with helping them to create jobs for its graduates and hosting information sessions.
For more information on the program, contact Joey Dewater at jdewater@hawaii.edu.