The University of Hawaiʻi graduated a record number of students enrolled in its Community Health Worker (CHW) certificate program this year. A total of 91 students (21 in fall 2020 and 70 in spring 2021) completed the 16-credit curriculum that offered both part-time and full-time cohorts at Kapiʻolani Community College. This is more than quadruple the number of students who normally complete the CHW program in a year since it started in 2017.
Students received free tuition thanks to a partnership with the Hawaiʻi Department of Health (DOH). CHW graduates are now prepared to help improve the quality of health and address disparities in the community, as well as support the state's ongoing response to COVID-19.
As part of the DOH–UH Contact Tracing Training Program, a UHealthy Hawaiʻi initiative, UH Community Colleges updated the CHW program curricula in 2020 so graduates were ready to support DOH in COVID-19 response efforts and help their communities access telehealth. By the end of the fall 2021 semester, more than 130 students will have earned their CHW certification through the DOH–UH program.
"Community Health Workers are on the frontlines as they are trusted individuals in the community and often come from the communities they serve. It was extremely important to our team that we made sure to address any gaps in access to education, therefore addressing health inequities across our islands in order to ensure the safety of all during this time of COVID-19," said Hilary Hacker, CHW Recruitment Facilitator and Lecturer at Kapiʻolani CC.
"Community Health Workers play a key role in promoting well-being and preventing illness, from chronic diseases to pandemics. They're critical public health partners whose cultural knowledge, lived experience and language skills ensure our COVID-19 response is inclusive and our long term goals are equitable," said CJ Johnson, DOH COVID-19 Outreach and Public Health Education community liaison. "We are grateful for our partnership with UH that has dramatically increased the number of CHWs in the state of Hawaiʻi."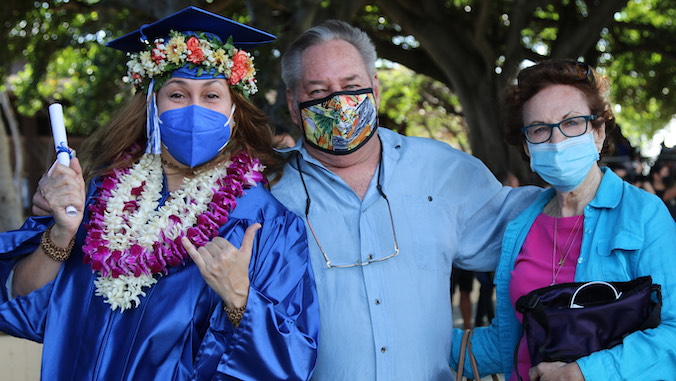 Free tuition and resources
Through the partnership, the CHW program received funding from DOH to provide tuition waivers for students enrolled during the fall 2020 and spring 2021 semesters. In addition, students received books, laptops and other wrap-around services such as technology and English Language Learner support. These services made it possible to reach those in remote areas or from underserved communities.
Preparing for a new career path
"I have always worked in sales and obtained a bachelor's in business administration; however, the certification program has given me the foundation to pursue another career as a social worker," said CHW graduate Jamie Robertson-Leong. "I had an amazing time learning and growing my skills during my practicum experience at Residential Youth Services and Empowerment while working with our homeless youth population, and I am looking forward to furthering my education and serving our community. I am grateful for the program and the professors at Kapiʻolani CC." Robertson-Leong plans to pursue a master's degree in social work.
After training approximately 130 CHWs through the DOH–UH Contact Tracing Training Program, the UH Community Colleges program will continue to support workforce development across the islands.
Learn more about the general CHW program and the COVID-19 response.