The line of cars stretched down Ala ʻIke Street and the offramp to Leeward Community College on August 26, the first day of a 14-day initiative of "surge testing" for COVID-19.
Gov. David Ige reinstated a "Stay at Home/Work from Home" order for the island of Oʻahu, effective at 12 a.m. on Thursday, August 27, through September 9. The intent of the order is to curb the recent rapid spread of COVID-19 and to protect all Oʻahu residents.
The massive testing by the City and County of Honolulu, the U.S. Department of Health and Human Services and the Surgeon General's Office is part of that effort. The federal government is providing the tests and covering all associated costs with the goal of completing 70,000 tests over 14 days.
For more information on this mass testing program, visit DoIneedaCOVID19test.com.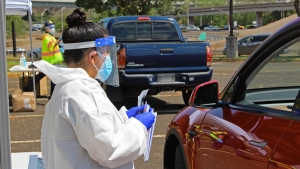 U.S. Surgeon General Vice Adm. Jerome Adams met with Honolulu Mayor Kirk Caldwell and Leeward CC Chancellor Carlos Peñaloza at the campus during the testing.
Adams said, "I consider this a success in terms of people's interest and the number of folks who have already signed up and we want to continue to see this enthusiasm build over the next 14 days so we can get to our goal of 70,000 tests."
The U.S. surgeon general also encouraged Hawaiʻi residents to follow what he calls the "3 Ws": Wash your hands, watch your distance and wear a mask.
"I want us to think of the next two weeks as not a time of pain, but as a time to hit the reset button so that we can more cautiously reopen at a time that is appropriate, when those positivity rates start to come back down," said Adams.