In a show of solidarity with children fighting cancer, St. Baldrick's Foundation will host its 10th annual Honolulu fundraising event filled with laughter and tears, and head-shaving, which has benefited pediatric cancer research at the University of Hawaiʻi Cancer Center, UH Mānoa's John A. Burns School of Medicine, Kapiʻolani Medical Center for Women and Children and Tripler Army Medical Center. The event will take place virtually on Sunday, September 27, 12 p.m.–5 p.m.
The main event is the signature head shaving for participants who have raised money to fund life-saving research. Participants who sign up will receive a link to the virtual event and friends and families will be able to watch participants via FaceBook Live or YouTube.
Everyone is welcome to support this effort by pledging monetary donations online supporting the event as a whole, or clicking on your favorite participant to support their head shave. Supporters can also join a team to shave as a group via virtual meetings, view the event and chat.
"With the event going virtual this year, anyone from around the world can participate," said Patrick Tyrrell, lead organizer of the event.
St. Baldrick's Foundation is a volunteer- and donor-powered charity that is committed to funding research to find the most promising cures for childhood cancers and give survivors long and healthy lives. The foundation is the largest private funder of childhood cancer research grants, second only to the U.S. government. More than $400,000 has been granted in Hawaiʻi to researchers and student fellows.
"In addition to providing research funding, we really want to raise awareness about the extent and impact of childhood cancers," said event co-organizer Wendy Cockshell, who works at the National Disaster Preparedness Training Center at UH. "September is Childhood Cancer Awareness month. Wearing gold ribbons and supporting our cancer kids by sporting a bald head is an incredible way to do it."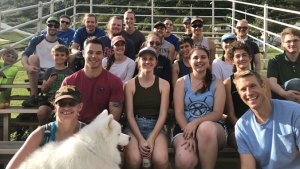 There are many ways volunteers can support and donate to this mission. The UH Geophysical Society, a group led by Department of Earth Sciences graduate students, raised $1,238 through an annual charity softball tournament that was donated to St. Baldrick's Foundation.
Despite living in the most medically advanced time in history, more children in the U.S. die from cancer than any other disease. Before they turn 20 years old, about one out of every 285 children in the U.S. will have cancer.
Haley's story
Husband and wife, Tyrrell and Cockshell have a deep personal commitment to the mission of St. Baldrick's Foundation. At five years old, their daughter Haley was diagnosed with Medulloblastoma, brain and spinal cord cancer, and began a long and very hard battle for her life.
"She was scared, determined and she worked incredibly hard," said Cockshell. "What amazes me about her is that she was so happy and positive. She was appreciative of every moment and every person who crossed her path."
Brain surgery, radiation to Haley's brain and spine, and a year of chemotherapy gave her a chance for survival. Her family celebrated her cancer-free diagnosis. However, six months later she relapsed. There is no cure for relapsed Medulloblastoma. This is when the first St. Baldrick's event was created in Honolulu. It was the only way possible to save Haley's life; with new research or a cure.
Haley helped shave many heads and she survived the next four years on experimental chemotherapy treatments. Her quality of life was better, she was less sick from the treatment and there was hope. Unfortunately, a cure was not found in time for Haley; she was 10 years old when she died.
Haley's family continues to fund research in her honor, knowing so many other children and their families need help.
"Innovative treatments allowed us precious time with our daughter," said Cockshell. "The St. Baldrick's Foundation supports research that saves the little lives of her friends and it makes living their lives better."