During the COVID-19 pandemic, hands-on "classroom" activities that students can do from home are now more important than ever. This inspired University of Hawaiʻi at Mānoa's College of Tropical Agriculture and Human Resources' Extension educators to develop some fun times with fungi, virtually helping Oʻahu students cultivate their own oyster mushrooms at home.
More than 100 teachers and community members joined an online webinar, learning how to leverage mushroom cultivation using teacher-crafted lessons for 150 students grades K–12.
Each mushroom grow bag can yield around three flushes (crops) of mushrooms that students can engage with to learn STEM principles, before trying their hand at cooking with—and eating—their very own mushrooms. Younger students use mushrooms to learn about life-cycles, while the older students can practice collecting data and learn about complex nutrient cycles.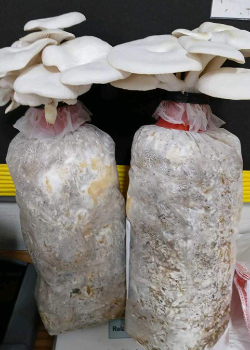 While the students have been making mushroom observations, their teachers have been making observations as well. The kids really get creative, the teachers noted, as they find various places to grow and cultivate their mushrooms. The children are excited to have something they can call their own, take care of, and discuss with each other.
More than 250 mushroom kits have been sent out statewide. Teachers are hopeful that after the pandemic, they'll be able to implement a mushroom program in their classrooms. One day, mushrooms could be cultivated at a larger scale at schools for students to practice laboratory, business or culinary skills with the fungi of their labor.
Read more at the CTAHR website.
—By Mahina Smith