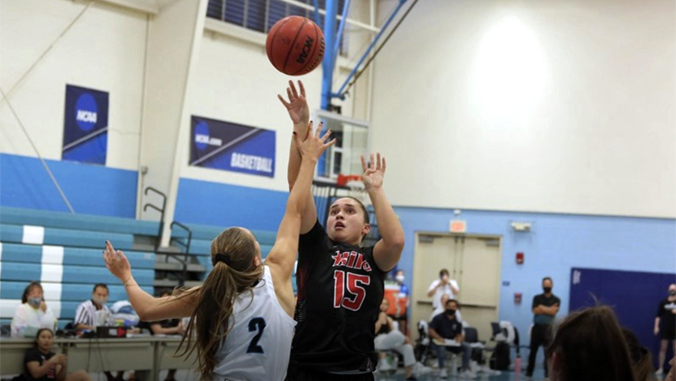 A pair of 5-foot-8 guards, Kim Schmelz and Darren Williams, one wrapping up a career and the other just getting started, are this week's University of Hawaiʻi at Hilo Pepsi Athletes of the Week.
If this really was her last game in a highly successful career, Schmelz went out with a bang. She equaled her career high with 29 points in a 93-58 win over Chaminade that helped the Vulcans finish the year at 6-6. For the weekend, Schmelz totaled 38 points giving her 1,041 in her career, second all-time at UH Hilo. She also departs with 109 three-pointers (4th) and 153 free throws made (6th).
Williams led the Vulcans on back-to-back days with 21 points each. He helped the Vulcans cruise past host Chaminade, 78-62 and was 7-for-10 from the field and was a season-best 5-of-8 from three-point range. On Saturday, he put up 21 points again. Williams averaged 14.4 points a game this season, led the squad with 26 three-pointers made in 12 games and also led the Vulcans in assists (37), free throw percentage (.830) and steals (25).
For more go to the UH Hilo athletics website.