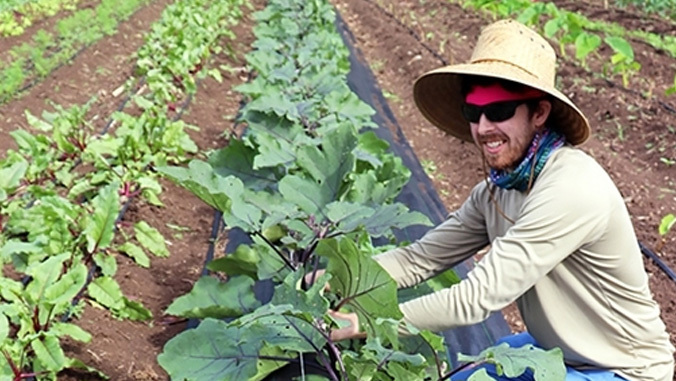 The University of Hawaiʻi's successful farmer-training program, GoFarm Hawaiʻi, was awarded a 3-year, $500,000 grant from the U.S. Department of Agriculture's National Institute of Food and Agriculture (USDA-NIFA). The grant will enable GoFarm Hawaiʻi to continue its partnership with UH Maui College to offer its beginning-farmer training program through the Agriculture and Natural Resources program, and will add an intensive value-added food production training course so students can consider revenue diversification options.
UH Maui College has years of experience in food manufacturing education, and now they will be sharing that knowledge with aspiring farmers. The goal is to help the Valley Isle develop its workforce by providing production, business and leadership skills to those looking to enter the food and agricultural industry.
"We are excited to further collaborate with UH Maui College," said GoFarm Hawaiʻi Director Janel Yamamoto, who was instrumental in landing one of only 19 Agricultural Workforce Training grants awarded across the country.
"Value-added products can increase the economic value of agricultural commodities and help farmers attain higher revenues and margins," added Yamamoto. "We are looking forward to recruiting for our next cohort in May and adding food manufacturing to the curriculum!"
Agricultural Workforce Training grants are part of NIFA's Agriculture and Food Research Initiative and are designed to provide community, technical or junior college students with the skills and tools necessary to secure industry-accepted credentials in order to join the workforce.
This work is supported by the Agriculture and Food Research Initiative-Agricultural Workforce Training Priority Area, from the U.S. Department of Agriculture, National Institute of Food and Agriculture.
More on GoFarm
Hawaiʻi
GoFarm Hawaiʻi, a collaborative effort involving UH Mānoa's College of Tropical Agriculture and Human Resources (CTAHR), Windward Community College and UH's Agribusiness Incubator Program, provides a comprehensive and practical production and business training program, and connects aspiring farmers with CTAHR experts, existing farmers and the local agriculture community. There are six training sites statewide that support farmers and individuals who want to establish businesses in the agricultural industry.
GoFarm Hawaiʻi has been addressing the issue of food security long before the COVID-19 health crisis. Since 2012, it has trained more than 370 aspiring farmers, helping to reduce Hawaiʻi's dependence on imported food and increase food sustainability.
This effort is an example of UH Mānoa's goal of Building a Sustainable and Resilient Campus Environment: Within the Global Sustainability and Climate Resilience Movement (PDF), one of four goals identified in the 2015–25 Strategic Plan (PDF), updated in December 2020.