The Hawaiʻi State Legislature recognized the 50th anniversary of the ethnic studies program in the College of Social Sciences at the University of Hawaiʻi at Mānoa. Rep. Sonny Ganaden, a former instructor in the Department of Ethnic Studies and Department of American Studies, presented a congratulatory certificate signed by members of the legislature to Department Chair Ty Tengan on April 26.
Ethnic studies started as a two-year experimental program in the fall of 1970 in the midst of several political movements. It has since prospered into a department providing a quality education and serving as a major community contributor.
"We are proud to celebrate 50 years of teaching our history, our way," Tengan said. "With renewed commitment to social and ecological justice in Hawaiʻi and Oceania, we invite our friends in the university and in the community to join us as we collectively define our future, our way."
"The discussion of intersectionality in government. The ways that underserved communities are disproportionately affected by policing, criminal justice and by inappropriate laws continues to be something that we struggle with and the work that Professor Tengan and students do here is absolutely essential to holding democracy accountable," Ganaden said.
50th anniversary celebration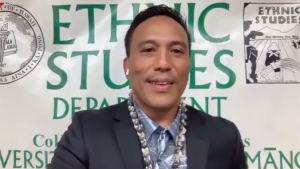 Due to limitations with in-person gatherings, the department commemorated its 50th anniversary, "50 years of ethnic studies: celebrating our past and reimagining our futures," on April 27 with a celebration via Zoom. More than 125 participants attended the virtual event. Tengan began the celebration with a chant. Rep. Roy Takumi, a UH Mānoa alumnus and former ES 330 Japanese in Hawaiʻi teaching assistant delivered remarks; and Tengan read a statement from Sen. Brian Taniguchi, who is also a UH Mānoa alumnus and former ES 330 Japanese in Hawaiʻi teaching assistant.
Several current and former students congratulated the department through performances and spoke about their achievements in successful initiatives such as, the five-year bachelor's and master's degree pathways in ethnic studies and education, service learning, the work with Professor Davianna Pōmaikaʻi McGregor on Kahoʻolawe and the Center for Oral History's move into the Department of Ethnic Studies.
UH Mānoa Provost Michael Bruno and College of Social Sciences Dean Denise Eby Konan also honored the 50th anniversary of the ethnic studies program.
"We are so proud that ethnic studies has played a significant role at UH Mānoa," Konan said. "The program has helped incoming freshmen adapt to the college experience through its summer bridge program. Plus, it has been pivotal in leading students to a better understanding of their own histories, and helping them to succeed and thrive at the university."
Visit the 50th anniversary website and submit congratulatory messages on its comment board.
This program's efforts are prime examples of all four UH Mānoa's goals of Becoming a Native Hawaiian Place of Learning (PDF), Enhancing Student Success (PDF), Excellence in Research: Advancing the Research and Creative Work Enterprise (PDF) and Building a Sustainable and Resilient Campus Environment: Within the Global Sustainability and Climate Resilience Movement (PDF), identified in the 2015–25 Strategic Plan (PDF), updated in December 2020.
—By Marc Arakaki