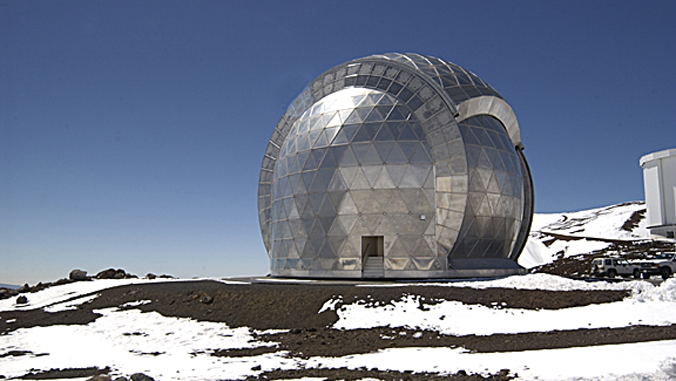 The California Institute of Technology (Caltech) Submillimeter Observatory (CSO), one of five Maunakea telescopes that the University of Hawaiʻi says will be removed from the summit in the next decade, is a step closer to decommissioning.
The Maunakea Management Board (MKMB) unanimously approved an Environmental Assessment (EA) draft as part of the Site Decommission Plan for CSO on Monday, May 31.
Caltech is responsible for the cost of decommissioning and, as part of the process, has completed an archeological assessment, a cultural setting analysis, a hydrogeological evaluation, a biological inventory, a biological setting analysis, a traffic analysis and an asbestos/lead paint/mold survey.
Along with completing the draft EA, which describes the site as well as the potential impacts of the decommissioning process, CSO has also completed a historic preservation review, Draft Mitigation/Monitoring Plan and Decommissioning Funding Plan.
The UH Hilo Center for Maunakea Stewardship (CMS, formerly known as the Office of Maunakea Management) is working to enhance a stronger foundation of stewardship on the mauna which includes proper decommissioning of telescopes.
"CMS is pleased the decommissioning process is on-track and progressing," said CMS Executive Director Greg Chun. "The privilege of extending the university's educational mission through astronomy on Maunakea comes with a deeply felt kuleana and decommissioning is a critical expression of that."
CSO and UH Hilo's Hōkū Keʻa teaching telescope are the first two observatories to undertake the decommissioning process on UH-managed Maunakea lands. The decommissioning of Hōkū Keʻa is anticipated to be completed in mid-to-late 2023. The CSO deconstruction and site restoration work is tentatively scheduled to be completed by late 2022.
The 2010 Decommissioning Plan for the Maunakea Observatories, a sub-plan of the Maunakea Comprehensive Management Plan, describes the four-step decommissioning process for the removal of an observatory, followed by restoration of the site to its original state, to the greatest extent possible.
CMS is responsible for UH-managed lands on Maunakea, including the decommissioning process and is coordinating with the State of Hawaiʻi and the Department of Land and Natural Resources. The respective observatories are responsible for preparing Site Decommissioning Plans along with compliance and permit documents and implementing decommissioning.
MKMB is a board of volunteers that serve as a sounding board on behalf of the community, providing input on operations and activities, developing policies, reviewing and providing recommendations for land uses planned for Maunakea.