Seeking resources meant to address basic student needs such as food and shelter needs to be destigmatized, according to Xóchitl Mota-Back. The University of Hawaiʻi–West Oʻahu assistant professor of sociology knows of what she speaks—having struggled with food and finances for much of her life, until well after landing her UH West Oʻahu faculty position in the fall of 2017.
"There is nothing we can do well if we are hungry, and everyone needs access to food that is nourishing. The reason I am where I'm at in life is because of the help from so many—friends, family, and community," she said.
It is why Mota-Back assists her students and the broader community with basic needs, and has volunteered for multiple food distributions in the Kapolei area over the past few years.
Fear and anxiety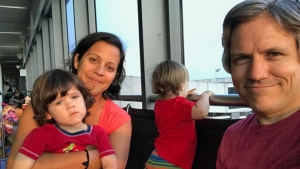 Her most challenging time was as a visiting assistant professor at Willamette University in Oregon, the year before she moved to Hawaiʻi. At the time, Mota-Back was the sole provider for a family of four, including her partner, a toddler and a newborn.
"It's one thing when you've grown accustomed to pacing how much you eat, where and when you shop, and price-comparing as a college student living on your own, but once you have babies it's a whole new world of fear and anxiety," she said.
Trips to the local food bank were a great help, but were restricted by the food bank to once a month.
"We were a family with one PhD and one on the way and couldn't afford to pay for childcare. Going to the food bank helped us use the little income we did have to buy diapers and wipes and pay the electric bill," she said.
Even after moving here for her new job at UH West Oʻahu, things didn't get better right away. The move was expensive and the nine-month contract meant a three-month gap in pay. Mota-Back said she should have been going to the foodbank when she first got here, but didn't due to lack of information about available resources or where to go.
She said the students at UH West Oʻahu are very similar to her. Many are the first in their families to go to college, are parents or are helping out with younger family members, and many are working full-time while going to school.
Help is available
Mota-Back is also a member of the UH Basic Student Needs Committee that is working to complete the first UH System Basic Needs Master Plan to guide basic needs programming at the system level and at each of the 10 UH campuses.
To help UH students to access a range of basic needs resources, a series of free webinars is being offered throughout the fall semester 2021. Rainbow Uliʻi, UH system basic needs coordinator, provides 30-minute demonstrations to help the UH community become more familiar with the student basic needs website and Findhelp.org search engine. UH students in need of housing, food assistance, financial support, etc., are invited to join one of following webinars:
Wednesday, November 17, 6–6:30 p.m.
Thursday, December 16, 11–11:30 a.m.
iCalendar (.ics) files with webinar links can be downloaded.
UH students can also go to the Basic Student Needs website to find resources for each of the UH campuses across the state.