In ʻōlelo Hawaiʻi (Hawaiian language), kuleana represents a right, privilege, concern or responsibility to take care of one another and ʻāina (land). The University of Hawaiʻi at Mānoa is launching "Finding Our Kuleana," a collection of personal narratives that capture four haumāna (students) who discover their purpose and sense of responsibility while pursuing college degrees.
UH Mānoa students Kahealani Acosta (College of Tropical Agriculture and Human Resources), Tate Castillo (Shidler College of Business), Beau Nakamori (School of Architecture) and Kelsey Maloney (School of Ocean and Earth Science and Technology) are featured in the video profiles that will air on local TV programming, radio and social media. Each video highlights academic pathways and aspirations the students encounter on their UH Mānoa journey.
"Our campus is on a journey of learning how to live into our collective kuleana to Hawaiʻi and the world," said Kaiwipunikauikawēkiu Lipe, UH Mānoa Native Hawaiian affairs program officer. The four haumāna who share their moʻolelo provide us tangible examples of what this journey looks and feels like. I am so grateful to them because their stories invite each of us to reflect on how we take part in this important work."
In 2015, UH Mānoa launched its strategic plan, "Mānoa 2025: Our Kuleana to Hawaiʻi and the World (PDF)." The new plan, Mānoa 2025, articulates how the university will strive to meet its mission statement—"E hoʻomālamalama i kō mālama: Cultivating the potential within each member of our community," and vision statement—"He lamakū o ke aloha ʻāina: A leading light of aloha ʻāina for Hawaiʻi and the world."
Mānoa 2025 identified four goals:
Becoming a Native Hawaiian Place of Learning
Enhancing Student Success
Excellence in Research
Building a Sustainable and Resilient Campus Environment
"Finding Our Kuleana" is an opportunity to reimagine and illustrate how UH Mānoa can best serve our communities. The four video narratives help showcase real-life stories and experiences at UH Mānoa.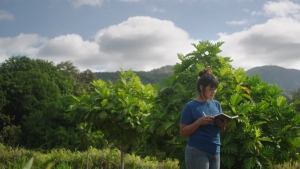 "This video collection encompasses the overall mission and overarching vision of UH Mānoa—to help our students find how they can best serve their community, profession and planet long after their days at Mānoa," UH Mānoa Provost Michael Bruno said. "We strive to create, invent and change the way haumāna see and interact with our world."
The hope is to spotlight more UH Mānoa haumāna, faculty, staff and alumni who are identifying personal kuleana. Anyone interested in sharing a story can use the hashtag #FindingOurKuleana on social media to strike up a conversation.
This campaign is an example of UH Mānoa's goal of Becoming a Native Hawaiian Place of Learning (PDF), Enhancing Student Success (PDF), Excellence in Research: Advancing the Research and Creative Work Enterprise (PDF) and Building a Sustainable and Resilient Campus Environment: Within the Global Sustainability and Climate Resilience Movement (PDF) the four goals identified in the 2015–25 Strategic Plan (PDF), updated in December 2020.