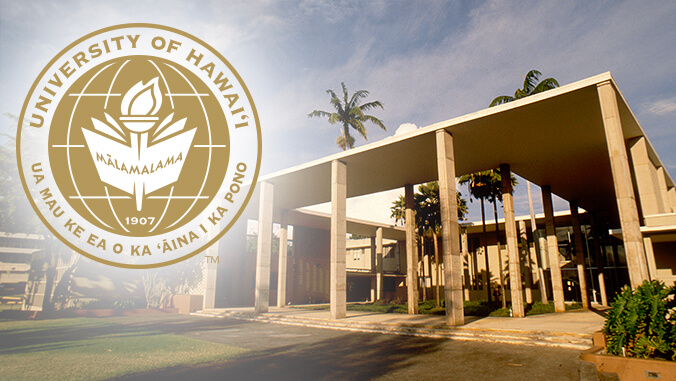 This message was shared with the students, faculty and staff of the 10-campus University of Hawaiʻi system on December 28, 2021.
Aloha to all during this holiday season during which COVID-19 continues to throw us wrinkles.
With the explosive emergence of the Omicron variant, Hawaiʻi is experiencing another major surge in COVID-19 cases, and we have had significant clusters associated with UH as well. Fortunately, neither UH nor our communities are experiencing the truly alarming levels of illness and hospitalizations associated with previous surges. However, the case counts are extremely worrisome and UH leadership has been in regular conversation with our internal experts and others as we have monitored the COVID-19 numbers and models.
After much discussion, we are announcing that in-person classes that can be effectively taught online will be temporarily shifted to electronic delivery for the first two weeks of the semester. We are not changing course modalities but merely making this adjustment to maximize the safety of our campuses during the expected peak, including with those who may be returning from another island or farther. All UH campuses will remain open, including residence halls at UH Mānoa and UH Hilo, and on-campus services will remain available during normally scheduled hours.
We know that many courses require in-person attendance. Fortunately, over the past year and a half we have learned much about physical distancing and how to offer our lab sections, clinical experiences, Career and Technical Education (CTE) shop courses and studios safely under COVID-19 conditions. Determinations of which sections will move online for these first two weeks of the spring semester will be made on our campuses based on local considerations including COVID-19 conditions in the area, density of student populations in classrooms, number of students who will be traveling back to campus and instructional needs to keep all students on track to graduate. Look for more specific announcements from each campus in the next day or so.
We are disappointed to take this action but believe it is appropriate to protect the health and safety of our students and employees. Based on the best information available, a full return to the published modalities of instruction for all courses on January 24, 2022 should be safe for all.
We also urge all our students and employees to get their booster shot as soon as they are eligible, typically 6 months after the 2nd dose of the Moderna or Pfizer vaccine. We are encouraged by the high vaccination rates among our students and employees across the UH System and we are now making plans to include booster shots upon eligibility as part of the definition of what it means to be "fully vaccinated."
We hope this information helps you with your planning, and we look forward to welcoming you back to campus next month.
Best wishes for the New Year—may it be safe and healthy for all!
E mālama pono,
David Lassner