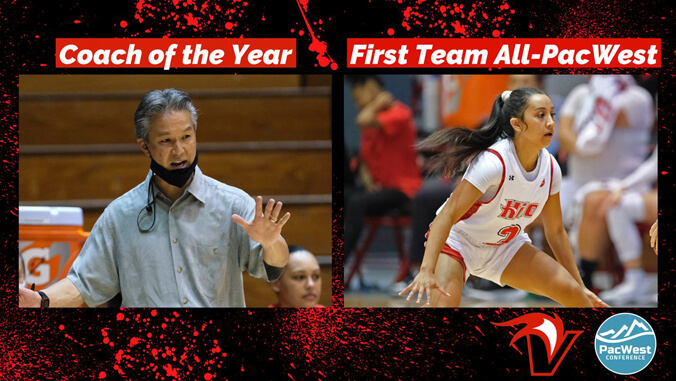 The University of Hawaiʻi at Hilo women's basketball Head Coach David Kaneshiro was named PacWest Coach of the Year and junior Mandi Kawaha received First Team All-PacWest honors for the 2021–22 season.
The Vulcans were projected to finish ninth in the PacWest Conference Coaches Preseason Poll, but instead gave the best teams in the conference and nation a run for their money. Led by Kaneshiro, the Vulcans split games with three out of the top five teams in the conference, topped Hawaiʻi Pacific University for the first time in 10 years, and knocked off the University of Alaska Anchorage in overtime, when the school was ranked No. 5 in the nation by the Women's Basketball Coaches Association.
Kaneshiro, in his 12th season, brought his team to the PacWest Conference Championships for the first time since 2014, with a conference record of 11-8.
"Congratulations to our women's basketball team and Coach Kaneshiro," said athletic director Patrick Guillen. "Coach has done a tremendous job this season guiding our Vulcans to their first conference tournament since 2014 while navigating a very challenging environment due to the pandemic. Despite the twists and turns, coach led a positive and confident example and really set the tone for the team. We are very proud of this accomplishment and honor and wish him and the team the best as they represent UH Hilo and the state of Hawaiʻi in Fresno, California."
Kawaha, an All-PacWest First Team selection, led her team in points, steals, free throw percentage, assists and blocked shots. The junior guard from Hilo High School is also among the best in the PacWest in three categories. Kawaha is the seventh-highest scorer in the conference, has the second-highest free throw percentage and the third-most assists.
The Vulcans open PacWest Tournament play on Thursday, March 3, with a quarterfinal match-up against Academy of Art University.