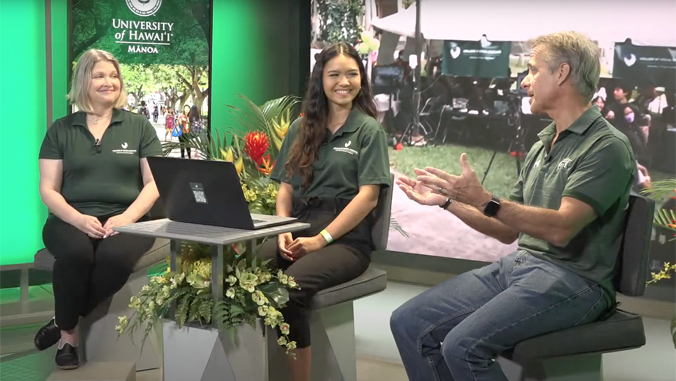 What happens when the Waiʻanae High School class of 2020 valedictorian enrolls as a journalism major in 2021 at the University of Hawaiʻi at Mānoa College of Social Sciences? Amee Hiʻilawe Neves became the host/anchor of a four-hour livestream of the 2022 Mānoa Experience open house that drew 3,000 registered attendees. The exciting news assignment in the College of Social Sciences Digital Studios also cements the 19-year-old's dream to earn a bachelor's degree in journalism, so she can one day return to Waiʻanae High and teach budding journalists.
I am motivated to change stereotypes and stigmas about Waiʻanae.
—Hiʻilawe Neves
"It was stressful but fun," said sophomore Neves about her key role as host/anchor, where she interviewed VIPs between throwing back to live segments by other School of Communications students at the April 2, Mānoa Experience. "The first time I heard that I would be the anchor was a couple weeks before, and only about a week out that it would be a livestream—for four hours! It was scary, but I was appreciative of so much support from my classmates and staff."
Added Nikki Chun, vice provost for enrollment management at UH Mānoa, "I was really impressed with the communications students' coverage from the Digital Studios and the livestream on McCarthy Mall, and Admissions' social media fellows under the leadership of Jennel Sesoko, director of branding and marketing. I was particularly impressed with the Digital Studios' main studio anchor, Hiʻilawe."
Journalism passion sparked early, fueled at Mānoa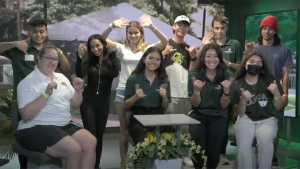 Neves has wanted to become a journalist as early as her days at Māʻili Elementary School, because the Waiʻanae community is home to Searider Productions. The high school's integrated multimedia program has a stellar reputation as the state's top student-run film production entity. At Waiʻanae Intermediate, she was a student broadcast reporter and, by the time she moved on to Waiʻanae High's Searider Productions, her career path was clear.
"I am motivated to change stereotypes and stigmas about Waiʻanae—to tell positive stories and highlight the good things about the area and the people," said the Filipino-Hawaiian first-generation college student.
Neves was accepted as a freshman in fall 2020 at the University of Washington, but never flew to Seattle due to nationwide COVID-19 restrictions. Instead, she spent her entire freshman year taking virtual classes from home on Oʻahu, which she found disappointing and somewhat demoralizing. Meanwhile, one of her high school friends attending UH Mānoa sent frequent emails to Neves about how great the journalism program was at the College of Social Sciences. "She kept telling me, 'You should transfer here. It's so much fun!'" remembered Neves. "So I did."
Her selection as Mānoa Experience host/anchor brought initial apprehension, "because I like control and it was only me on camera, and you have to think on your feet."
It was especially unnerving because she was interviewing VIPs including UH Mānoa Provost Michael Bruno, College of Social Sciences Dean Denise Eby Konan, department chairs and faculty.
"Toward the end I got more comfortable with the role," said Neves, who was trained and encouraged by Sherrie White, Digital Studios director, and Bernadette Baraquio, a veteran journalist and former KHON2 news anchor who is the creative director and executive producer for the UH Mānoa student-driven news magazine show, UHMtv.
But her biggest fans are her family—her parents, Gerald and Elina Neves, who watched the entire livestream, and her older sister, Renee, who was also a Waiʻanae High valedictorian and is now an 11th-grade English teacher at the school. While Neves would like to work at a TV news station after graduation, her long-term goal is to return to Waiʻanae High for a mentoring role at Searider Productions.
"I love the aspect of storytelling, and would like to do Native Hawaiian stories, especially those highlighting Waiʻanae and a lot of good stories inspiring youths," said Neves, who anticipates graduating in spring 2024. "I owe everything to Searider Productions and would like to help them keep competing on a national level."
Neves' work is an example of UH Mānoa's goal of Enhancing Student Success (PDF), one of four goals identified in the 2015–25 Strategic Plan (PDF), updated in December 2020.