Emily Jo Noschese is the first deaf student to earn a doctorate from the University of Hawaiʻi at Mānoa. The Department of Linguistics in the College of Arts, Languages & Letters (CALL) recognizes the recent graduate.
"I feel honored," expressed Noschese. "The linguistics department made this happen and took a chance on me. The linguistics department and KOKUA worked with me, accommodating needs for me to be successful. I can't express my gratitude enough!"
More highlights from the commencement ceremonies and our amazing graduates
Noschese comes from a fourth generation of a culturally Deaf family of American Sign Language (ASL) users, and is the first person in her family to receive a full university education. After graduating from The Western Pennsylvania School for the Deaf, she attended Gallaudet University, the world's only liberal arts university for deaf people, and earned a BA in American Sign Language and an MA in linguistics. Noschese said she waited to pursue a PhD until she found the right program at the right university.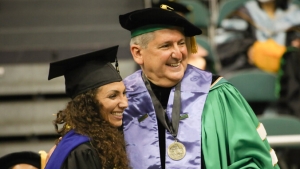 After several years of teaching ASL in various colleges and universities, Noschese moved to Honolulu and began teaching ASL classes at Kapiʻolani Community College. She soon began transcription work on the Endangered Languages Documentation Program project on Hawaiʻi Sign Language (HSL) at UH Mānoa. Impressed by her knowledge and enthusiasm, the HSL project staff encouraged Noschese to apply to the PhD program in CALL's linguistics department. In her application, she stated that she had wanted to get a PhD since she was 10 years old, and that UH Mānoa was the perfect place, given its expertise in language documentation and revitalization.
"We are honored that Emily Jo chose to build upon her academic interests and passion here at Mānoa," said UH Mānoa Provost Michael Bruno. "I know that her extraordinary success and lasting contributions to the university will inspire many haumāna (students) who have yet to begin their own journey of discovery."
Noschese's groundbreaking dissertation focuses on language ideology in younger ASL users. Her work also helped the department create and teach ASL courses that are taught by other deaf instructors today.
"Noschese's dissertation is a valuable resource for ASL-based education programs, especially because it targets the attitudes of the young parent generation, who, along with teachers and schools, play a role in deaf education curricula," said Andrea Berez-Kroeker, professor and graduate chair of linguistics, who co-chaired Noschese's dissertation committee with Woody Woodward, an adjunct professor.