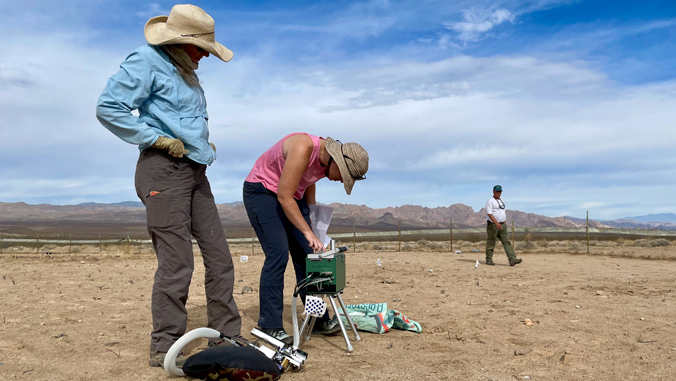 A national award of excellence in the field of botany has been conferred to the second faculty member in three years from the University of Hawaiʻi at Mānoa School of Life Sciences.
Assistant Professor Karolina Heyduk is the 2022 recipient of the Emerging Leader Award by the Botanical Society of America, which is given annually to one scholar in the country who has displayed outstanding accomplishments and has demonstrated exceptional promise for future accomplishments in research, education, public policy and exceptional service to the professional botanical community. UH Mānoa Assistant Professor Christopher Muir won the award in 2020.
"I've been a member of the Botanical Society of America (BSA) since my time as a graduate student, and it has been instrumental in shaping who I am as a scientist and as a member of the broader scientific community," Heyduk said. "To receive this award from the BSA is truly such an honor, especially as it recognizes not only my scientific contributions, but also my efforts to broaden what voices are included in the botanical sciences."
Rare research
Heyduk's research focuses on plant ecophysiology, evolutionary biology and genomics to understand the ways plants adapt to harsh environments. Her research requires a high level of computational skills, a thorough understanding of the biology and metabolism involved, and the ability to conduct experiments that are meaningful in terms of the ecology and physiology of the species being investigated, an approach that is rare in plant science research, according to the Botanical Society of America.
"I've really enjoyed getting to teach a variety of students, from big intro biology courses to upper level botany labs. In all cases, I strive to make science approachable and relevant to students," Heyduk said.
She is also the director of the Joseph F. Rock Herbarium, which is housed in the School of Life Sciences. The herbarium holds about 55,000 dried plant specimens, the majority of which are plants native to the Hawaiian islands.
"Hawaiʻi has such a special flora, so promoting the importance of the herbarium has been a top priority," Heyduk said. "We've recently gotten National Science Foundation funding to digitize the herbarium, meaning anyone anywhere in the world can look at the plant specimens the herbarium holds. Students are heavily involved in that process and are central to the success of the herbarium."
Recruiting underrepresented students
Heyduk has received numerous grants, has dozens of publications, serves on the editorial boards of Applications in Plant Sciences and Annals of Botany, and has been invited to give talks at institutions around the world. She also recruits students from diverse backgrounds, particularly Pacific Islanders and Native Hawaiians, to participate in research activities.
"Historically excluded groups from science—including Native Hawaiian and Pacific Islanders—remain underrepresented in STEM fields," Heyduk said. "By intentionally bringing students into the lab or the herbarium, I hope they get experiences that can propel them into whatever comes next—graduate school, medical school or other professional programs. I also hope that by actively contributing to research in the lab or herbarium, students can start to see themselves as important members of the scientific community."
—By Marc Arakaki