Efforts to protect tropical lowland dry forest in North Kona recently got a big boost as Hawaiʻi Community College–Pālamanui and the state Department of Land and Natural Resources (DLNR) finalized an agreement to conserve a 706-acre parcel adjacent to the Pālamanui campus.
The Pālamanui Forest Preserve is home to a critically endangered type of ecosystem in Hawaiʻi as less than 5% of tropical lowland dry forest remains since human settlement, according to experts.
Under the agreement, Hawaiʻi CC–Pālamanui and the DLNR Division of Forestry and Wildlife (DOFAW) will collaborate to protect the area from various threats, such as wildfire and destructive animals, while using it as a living laboratory for students and community members.
"We are thrilled to collaborate with the DLNR and DOFAW to protect and restore this threatened ecosystem," said Hawaiʻi CC Chancellor Rachel Solemsaas. "This conservation effort will contribute to carbon sequestration to combat climate change, create unique learning opportunities for the local community, and more. Hawaiʻi Community College is committed to the principle of mālama ʻāina, and this project is one way we're putting that value into action."
Living laboratory
Hawaiʻi CC–Pālamanui lecturer Richard Stevens has been taking his students and the community to the preserve to help with reforestation efforts for years.
In spring 2022, he took his History 151 students to gather seeds from ancient wiliwili trees to take to the State Tree Nursery. After the seeds are grown into young plants, some will be replanted around the "parent" trees as part of reforestation efforts.
"I think that having access to this land helps build relationships and helps community building within the school," said student Jordyn Picadura.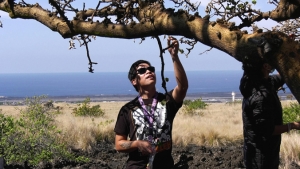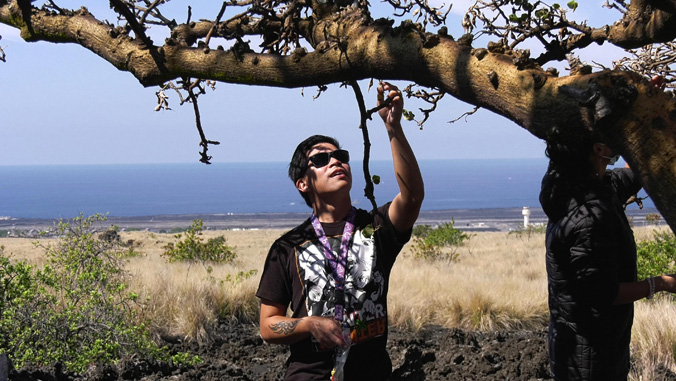 Picadura said Stevens tried to instill a sense of responsibility in his students to take care of the land and give back.
Stevens said, "It will be part of the reforestation of the drylands here, which is our long-term objective to bring back the lowland dry forest to its former glory."
For his dedication to nature conservation, Stevens was the recipient of a 2006 Take Pride in America National Award from the U. S. Department of the Interior.
Gov. Ige plants tree
On June 24, Gov. David Ige got a close-up look at the Pālamanui living laboratory and planted another tree to count toward the state's pledge to plant, restore and conserve 100 million trees around the islands by 2030.
That same day, the governor visited the campus, where Elliot Parsons of the UH Regional Species and Climate Change Management Network showed him the garden named "The forest of loved souls," where native trees are being planted to increase their numbers.
Parsons said, "We need trees, the Earth needs trees, this island needs trees. When you have a personal connection with the trees you are planting, it takes it to an even deeper level."