With many local employers seeking to fill vacant positions, including thousands of critical healthcare jobs throughout the state, the University of Hawaiʻi Community Colleges are continuing to offer free short-term trainings leading to industry credentials in the resilient sectors of healthcare, technology and the skilled trades through the Hana Career Pathways program. Applications for the fall trainings are now available through the Hana Career Pathways website.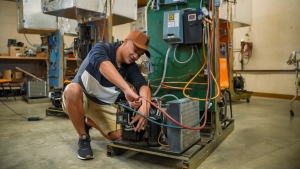 A variety of sessions of different durations offered from August through December include certified nurse aide in the healthcare sector, IT certifications, and courses such as HVAC (heating, ventilation and air conditioning) and arborist certification in the skilled trades—leading to employment and paid apprenticeship pathways.
"Employers are stepping up to collaborate with UH Community Colleges to fill important, good paying jobs across the state," said UH Vice President for Community Colleges Erika Lacro. "We hope our Hawaiʻi residents will seize this opportunity for free training, with hands-on experiences and support services, to gain employment in an exciting new field or to advance their careers."
The Hana Career Pathways program prepares students to apply for registered apprenticeships and related degree programs, and connects students with work-based learning opportunities such as paid internships and guaranteed interviews with local employers.
Students get CNA jobs
Kristie Doss-Ching, a student in the Certified Nurse Aide (CNA)training program at Leeward Community College, was one of 10 students who were offered employment as CNAs while in training. She said the program will help students gain valuable experience in hands-on nursing care, since CNAs are the ones who see and work with the patients the most.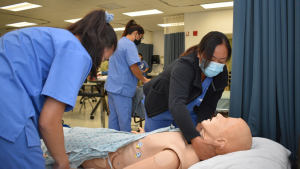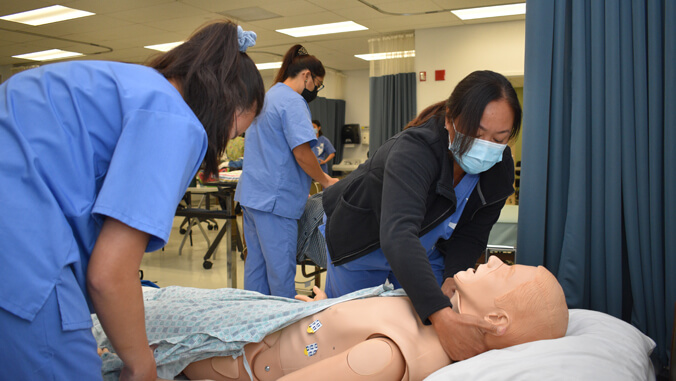 "Before class was even done, I had a job offer in hand, as did everyone in my class. Healthcare is a growing field, and nurses and CNAs especially are desperately needed right now all over the country, and especially here in Hawaiʻi," said Doss-Ching. "I joined the training program because I had been furloughed from the job that I had worked in hospitality for more than 30 years, since March 2020 due to COVID. I knew I wasn't getting any younger, that healthcare is a growing field, I had some experience caring for family members, and I knew that I could do this. I knew that I wanted to learn more about the skills side of nursing and I needed a job, so this was a win-win opportunity for me."
More than $2 million in Hana Career Pathways funding from the U.S. Department of Education is available for tuition this year. Eligible applicants receive tuition assistance for courses and other training costs such as books and industry certification exam fees. The program is free for most eligible participants, since many of the trainings provide a 100% tuition subsidy to cover all costs. Wrap-around services are also offered to students including college and career advising, referrals to community partners with supportive services, and other financial assistance.
"The demand for entry-level healthcare jobs has increased materially during the pandemic and is expected to remain high. We appreciate the collaboration with the UH Community Colleges to create programs that combine the training and employment process," said Janna Hoshide, Healthcare Association of Hawaiʻi senior director of workforce development. "Through this program, employers also provide additional on-the-job skills training to support the student's transition to the new job. This innovative model has enabled students to start new careers in healthcare as well as helped our members to fill critical positions, but there remains a large need for additional students to fill a variety of open positions across the state."
Learn more and apply online for current trainings.
Financial support for the Hana Career Pathways was provided by the U.S. Department of Education federal grant #V425G200038, Reimagining Workforce Preparation: Hana Career Pathways, in the amount of $13,370,383.58 for the period of October 1, 2020–September 29, 2023. Grants from the Ascendium Education Group, Hawaiʻi Community Foundation and the Harold K.L. Castle Foundation support the UH Community Colleges' coordination with industry partners in targeted sectors identified as recession-resilient in Hawaiʻi's Talent Roadmap to Recovery, issued by the Hawaiʻi Executive Collaborative.