The University of Hawaiʻi Community College system is ranked as the 5th best community college system in the United States by WalletHub. The UH community college system consists of seven community colleges statewide—Hawaiʻi CC, Honolulu CC, Kapiʻolani CC, Kauaʻi CC, Leeward CC, UH Maui College and Windward CC.
The personal finance website said the ranking was based on an analysis of the 2022's Best & Worst Community Colleges, a sample of 677 institutions and 19 key metrics including tuition cost, transfer rates, student loan defaults and the presence of free community college education.
Connecticut, Maryland, New Mexico and Washington ranked No. 1–4, respectively out of the 41 states ranked. Nine state do not have community college systems.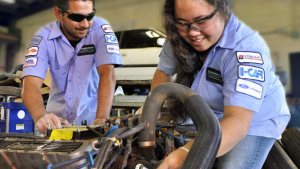 Four-year schools cost three times as much as community colleges, according to WalletHub, which stated, " Community colleges are an especially attractive option this year as many families deal with financial struggles caused by rising inflation and the lasting effects of the COVID-19 pandemic."
UH offers the Hawaiʻi Promise Scholarship, which provides free in-state tuition for qualified UH Community College students with financial needs. Hawaiʻi Promise provides the " last dollar" to cover direct education costs—such as tuition, fees and books—that are not met by other forms of financial aid.
For the 2020–21 academic year, 1,800 students from seven UH Community Colleges statewide benefitted from almost $3 million in Hawaiʻi Promise scholarships.