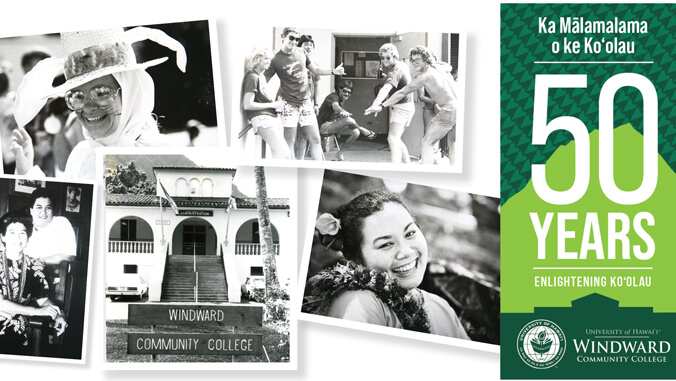 Windward Community College is celebrating its golden anniversary with a goal of raising $1 million for scholarships—to help all students fulfill their dreams of a college education. The college is kicking off its 50th anniversary year with two events.
Windward, Wine & Wow!
On Saturday, October 1, Windward CC will host Windward, Wine & Wow!, 5&@8211;7 p.m. The open-tent event, featuring gourmet pūpū, wine tasting, art and entertainment, will take place in the Palikū Theatre courtyard and Gallery ʻIolani. Highlights include:
Gallery

ʻIolani

opening preview of Wow! & Then: Art over the decades by WCC faculty
Gourmet heavy pūpū by Chef Daniel Swift
Wine tasting and mocktails
Musical entertainment by Kamakakehau Fernandez
Art studio tours by student/alumni representatives
The public is invited. Tickets are $95 per person and can be purchased at https://wccwineandwow2022.eventbrite.com.
RSVP by September 19 (space is limited). Donations are gratefully accepted at https://giving.uhfoundation.org/funds/20444403 for those who cannot make it to the event. For more information, contact Christine Pang at cmlpang@hawaii.edu.
"This event is an invitation to celebrate what Windward CC, with our larger community, has achieved over the last 50 years and to set the foundation to meet the challenges of our next 50 years," said Chancellor Ardis Eschenberg. "We are so proud of our legacy of service and opportunity building; the best is coming to the future of this college and students."
Windward, Wine & Wow! is sponsored by Windward CC Ambassadors and University of Hawaiʻi Foundation, and supported by Gallery ʻIolani Director Toni Martin, Professor Emerita Jacquie Maly, faculty, students and alumni.
Opening ceremony
A free 50th Anniversary Opening Ceremony will take place on Monday, September 19, at 2 p.m. on the library breezeway. The program includes cake-cutting, proclamation, remarks by dignitaries, students, alumni, faculty and friends, and dedication of the Chancellor's Wall of Fame.
To learn more about Windward CC's 50th anniversary events throughout the year, visit windward.hawaii.edu/50years.