Chicken piccata served with broccolini and confit garlic, oven-roasted tomatoes and caprese; eggplant parmesan served with penne pasta with marinara sauce, kale caesar salad and garlic bread—these are just a taste of the lunch dishes being served at the University of Hawaiʻi Maui College's newly modernized Pāʻina Market.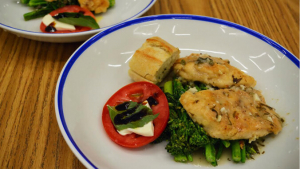 The dishes are prepared by the "World Plate" class at UH Maui College's award-winning culinary arts program, and are available for as low as $10 each.
"We're all excited to be fully open again," said Chef Instructor Noel Cleary. "The students are so energized. They love serving the public as well as our UHMC ʻohana."
After closing due to the COVID-19 pandemic, the Pāʻina food court reopened to the public on March 23 this year. In addition to the World Plate entrees, Pāʻina Market also offers soup, burgers, a full salad bar and a hot foods bar. Pastries prepared by UH Maui College's baking students are also available.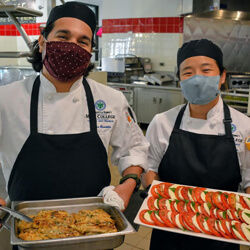 "Our program is excited to now have our re-designed Pāʻina Market open to the public," said Culinary Arts Program Coordinator Chef Craig Omori. "Besides featuring designs and concepts by our very own Marc Antosch (UH Maui College graphic artist) and Bonnie Friedman (a Maui public relations specialist), we were also very fortunate to have local artist Donald Shamblin donate his time to create some really beautiful chalkboard art. It's a great time for folks in our community to come in and check out the exciting things our faculty and students are doing."
Pāʻina Market is open Monday to Thursday, 11 a.m.–12:50 p.m. It is closed on UH holidays.
"I've been coming here since about 2005," said Maui golf pro Bradley Bowen. "I'm happy it's back. I enjoy the ambiance and trust that I'm getting good, clean, well-cooked food. And I think the program is fabulous and worth supporting."
The World Plate culinary class offered Mediterranean-inspired food at the market through September 22. The menu transitioned to Southeast Asian-inspired dishes through October 10.
Starting on October 18, the class will switch from World Plate to Paniolo Grill, where they will be preparing deli-style sandwiches and salads to-order. Paniolo Grill will be open during regular Pāʻina Market hours through December 6.
To stay up-to-date with Pāʻina Market's menus and hours, sign up for the weekly menu email.