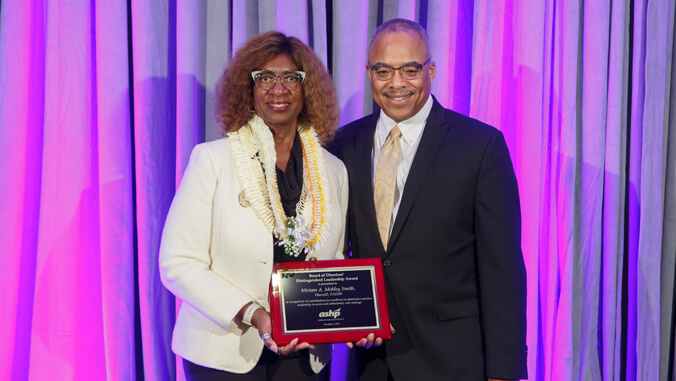 The American Society of Health-Systems Pharmacists (ASHP) honored University of Hawaiʻi at Hilo Daniel K. Inouye College of Pharmacy interim Dean Miriam Mobley Smith with a Distinguished Leadership Award. The honor, which recognizes contributions to excellence in pharmacy practice leadership in acute and ambulatory care settings, was presented to Mobley Smith at the organization's annual exhibition last December in Las Vegas.
ASHP highlighted Mobley Smith's unwavering commitment to educate and prepare the pharmacy workforce and enhance patient safety. The organization recognized her expertise and passion for making a difference at the local level.
"I extend our heartiest congratulations to Dr. Mobley Smith for this well-deserved—well-earned—honor," said Kris Roney, UH Hilo vice chancellor for academic affairs. "UH Hilo and the UH System have had the extraordinary fortune to see Dr. Mobley Smith's passions at work in her efforts to bridge relationships across the System in support of advancing opportunities in pharmacy and health education. Her energy and enthusiasm, combined with an unerring commitment to high quality education, are testament to all that this award lifts up about her."
Mobley Smith officially stepped into the pharmacy college's interim dean role last spring. Prior to her work at UH Hilo, the veteran pharmacy academic served as interim dean and visiting professor at the Northeastern University Bourvé College of Health Sciences and as dean and tenured professor at the Chicago State University College of Pharmacy (CSUCP). Her academic service includes clinical and teaching appointments at CSUCP, University of Illinois at Chicago College of Pharmacy, Rush University Medical Center in Chicago and South Suburban College.
Mobley Smith has helped promote pharmacy as an essential component of interprofessional patient care teams through her service as chair of the Centers for Medicare & Medicaid Services Advisory Panel on Outreach and Education and as a member of committees for the National Academies of Sciences, Engineering and Medicine. She has served on advisory and governing boards for many local, state and national organizations and held leadership positions at ASHP, the American Association of Colleges of Pharmacy and the American Pharmacists Association.