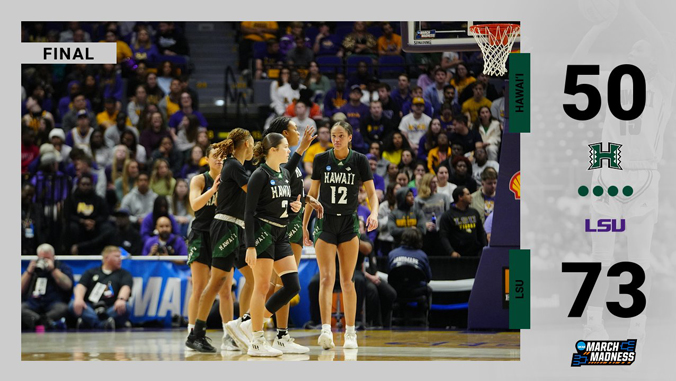 The Rainbow Wahine basketball team fought hard against one of the top teams in the nation, but ultimately fell in the NCAA Tournament. No. 14 seed UH ends the season with an 18-15 record after dropping its first round matchup against No. 3 seed LSU in Baton Rouge, 73-50.
All-Big West honorable mentions Kallin Spiller and Daejah Phillips led the way for the Rainbow Wahine with 13 points each. Spiller added five rebounds and two blocks. Sophomore guard and All-Big West first team selection Lily Wahinekapu contributed 11 points and six rebounds. All-Conference Freshman Team selection Imani Perez added seven points and nine rebounds.
UH got out to an early 3-0 lead on a three-pointer by Wahinekapu. Another Wahinekapu basket pushed UH's lead to 5-4, before the Tigers went on a 12-point run. LSU led at the end of the first quarter, 18-7. UH closed the gap to seven at 29-22 on a jumper by sophomore guard Meilani McBee. The Rainbow Wahine were held scoreless, though, for the final three minutes of the second quarter and trailed 35-22 at halftime.
A pair of three-pointers by McBee and Spiller put UH within nine points with less than seven minutes remaining in the third quarter. LSU then went on an 11-5 run to end the quarter to extend its lead to 48-33. After a basket by Spiller to open the fourth quarter, the Rainbow Wahine were held scoreless for about three minutes and 30 seconds. Scores by Spiller and Perez, and four quick free throws by Phillips midway through the quarter closed the gap to 19 points. The Tigers were too strong down the stretch, eventually taking the contest, 73-50.
The Rainbow Wahine earned the Big West Conference's automatic berth into the NCAA Tournament after winning the conference tournament in Henderson, Nevada. As a No. 3 seed in the Big West, UH took down No. 6 seed Cal State Fullerton in the quarterfinals, 82-75 (2OT), No. 2 seed Long Beach State in the semifinals, 67-62, and No. 5 seed UC Santa Barbara in the finals, 61-59, coming back from as many as 15 points down.
This is the second consecutive NCAA Tournament appearance for the Rainbow Wahine, after winning the Big West regular season and conference tournament last year. In 2022, UH received the No. 15 seed in the national tournament and traveled to No. 2 Baylor, losing 89-49, but showcased themselves on the national stage as a contending mid-major program.
For more information, visit the UH Mānoa Athletics website.
—By Marc Arakaki