University of Hawaiʻi at Mānoa student Ashley Badis is one of four plaintiffs in what could be a landmark Title IX lawsuit. Title IX is a federal civil rights law passed 50 years ago that prohibits discrimination based on sex in education programs and activities that receive federal financial assistance. The lawsuit was filed against the Hawaiʻi Department of Education and the Oʻahu Interscholastic Association in December 2018 and accuses James Campbell High School of discrimination against female athletes.
Badis is one of four plaintiffs, including her sister. The lawsuit is not seeking damages, but accountability and lasting change for future high school female athletes.
"When you're a young female athlete in school, you should just be focusing on having fun and getting better at your sport, rather than having to fight for the basic necessities," said Badis. "It's not right what we had to go through, and I don't want other girls to have to go through what I did, and for them to experience that same discrimination."
Badis swam and played water polo all four of her years at Campbell High School and graduated in 2019. Badis said she and her teammates faced a range of discrimination and unfair conditions because of their gender compared to their male counterparts.
The school did not hire a water polo coach for three of the four years Badis competed. Her father had to step in to help coach the team and the school was late every year in reserving a pool for team practices.
In her junior year, the team had to practice in the ocean at Puʻuloa Beach Park for the first two weeks of the season. When the school finally arranged for a pool, they had to share it with rival Kapolei High School. Badis and her teammates also had to use old, worn out equipment until her senior year including tattered water polo caps that were not up to safety standards.
According to the lawsuit (PDF), the other girls sports teams at Campbell also experienced unfair conditions including substandard equipment and facilities, and issues with practice times. For example, girls volleyball practices were often cut short to accommodate extra practices for the boys team. The school also did not provide locker room facilities for female athletes but did provide one for the male athletes. Girls had to change clothes in classrooms or at a nearby fast food restaurant before practice.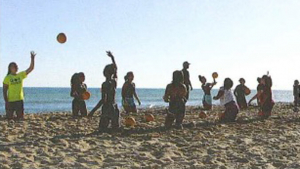 "It just felt like we had all the girls teams struggling on one end," said Badis. "Meanwhile, the boys teams were getting pre-season coaching and they got to go on tournaments off-season on the mainland—but we couldn't even get a practice facility."
Badis was still a student at Campbell when the lawsuit was filed. Although all four student plaintiffs were officially anonymous, she said the school's administration provided their names to the faculty. Badis says it was a scary experience that left her feeling like she had to "walk on eggshells."
More about Title IX:
National attention
In October 2022, Badis was featured in a New York Times article about the lawsuit because of its potential national impact. A federal judge had ruled in July 2022 that the case could proceed as a class action suit.
…the response from local people, especially girls, and just seeing comments and people reposting it made me feel really good. It felt like, 'wow, I'm actually making a difference now.
—Ashley Badis
"It didn't really hit me until the New York Times article," said Badis. "That was the first time I publicly spoke about it, so it was really nice to actually speak my voice and be heard."
After the article was published, Badis experienced an outpouring of support from her community, including reposts of the story that circulated on social media.
"I felt more supported by my family and friends because some of them didn't even know that I was involved in the lawsuit," explained Badis. "My community, too—the response from local people, especially girls, and just seeing comments and people reposting it made me feel really good. It felt like, 'wow, I'm actually making a difference now.'"
Inspired by family
Badis is pursuing a career where she hopes to continue to make a difference. She is currently a senior studying biology in a pre-medical track at UH Mānoa's School of Life Sciences. After graduating, she hopes to stay in Hawaiʻi and possibly attend the UH Mānoa John A. Burns School of Medicine. Her pre-medical track was largely inspired by her parents.
"I've been thinking about going into pediatrics because I like working with kids," explained Badis. "Growing up, my parents were both kind of in the medical field—my mom is a nurse and my dad is a firefighter—so I always looked up to them, and that's what made me want to pursue medicine."
For Badis, biology is something that she is passionate about and enjoys studying. Outside of her classes, Badis likes to attend UH Mānoa athletics events.
"I'm enjoying my time at UH," said Badis. "And although I am not a student-athlete anymore, I still enjoy going to sports games and events—especially water polo."
—By Alisha Churma