The success of the University of Hawaiʻi's esports program was spotlighted in front of hundreds of local high and middle school students and their families at the Hawaiʻi Esports League Championship, April 29–30.
Hosted by Vanta, the organization that manages the largest esports league in Hawaiʻi, the tournament featured a college esports fair, where members of UH's esports program connected with tournament participants.
In addition, the tournament that featured 23 schools and more than 130 participants was co-managed by a UH Mānoa graduate. Kogen Boyer is a 2018 alumnus of the School of Communication and Information, and now works as a business development associate for Vanta. Boyer managed all 12 brackets in the tournament, coordinated with players and coaches, solved technical issues and handled volunteer staffing, among other key roles. This final tournament was the culmination of a season that began with 43 schools.
Finding new opportunities at UH Mānoa
During his academic career, Boyer transferred to UH Mānoa from Honolulu Community College. He said he wasn't interested in having a social life on campus, never taking more than 12 credit hours a semester and heading home after school to get back to his passion—video games. His goal after earning his degree was to begin a career in the video game industry, particularly video game community management, which is what he specialized in during his final year at UH Mānoa.
At UH Mānoa, Boyer met UH Mānoa esports Program Director Nyle Sky Kauweloa before the UH esports program began.
"I remember gelling with him very quickly over our shared interest in video gaming; him being already heavily involved in the study of collegiate esports, and myself being an avid esports spectator since 2012," Boyer said. "I had some interesting stories to share about my experience as a online gaming clan founder and my observations on social dynamics in massively-multiplayer online game communities, and I think he appreciated a lot of the knowledge resources I had cultivated over 15 years as a hardcore online gamer."
Boyer added, "I remember Sky starting the groundwork for what eventually became the esports program after my graduation, and that's around the time I started having feelings of possibly entertaining a career in student esports, that it would be something I would be willing to spend my time doing. It has definitely been amazing to watch how UH Esports has grown since 2019 to its current level of stature."
In fall 2021 during the pandemic, Boyer reached out to Kauweloa to see if he could help out with the UH program. Kauweloa shared with Boyer about a startup company called Vanta, and said its co-founder was locally-based and committed to building an esports community in Hawaiʻi.
"So I thought, 'Alright, this sounds like something I can be valuable in,' so I met with Ed Lallier (co-founder of Vanta), and shortly thereafter joined his merry band," Boyer said. "It didn't take long to see that this was a company that could provide a service no one else was in the space, and genuinely cared about that service and what it meant in an education setting."
"I'm proud of Kogen. He has been a hard-working and knowledgeable student, part of a talented cohort of students from the School of Communications, and one of my first students in my Esports & Society course," Kauweloa said. "Now he's applying that skillset with the fastest-growing esports startup in Hawaiʻi by running the tournament operations for their finals and championship events. What is clear is that UH is cultivating up-and-coming talent who are moving into the esports industry, and making impacts."
UH esports connecting with local students
Kauweloa said connecting with not only the high and middle school students who participated in the tournament, but also their parents, was an invaluable opportunity.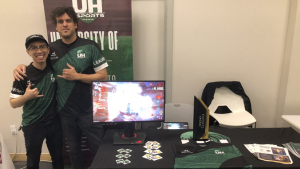 "It was great to be part of a growing local middle school and high school tournament run by Vanta," Kauweloa said. "We had a host of parents seeking out questions about future scholarships at UH Esports. One family came as an entire group, brother, sister, mom, and dad, seeking to better understand where their son could be placed on our teams. We are reaching a point where parents are far more knowledgeable about the topic of esports. More than a few times, students have said they have chosen to go to UH because of UH Esports."
According to Kauweloa, a college internship program will launch in summer 2023 through a partnership between UH and Vanta. Approximately 8–10 students will take part in the opportunity, which will also earn them college credits through the College of Social Sciences. Kauweloa said this is another example of how students from UH will continue to impact the industry locally with tremendous talent.
Learn more about UH's esports program
"Vanta is excited to partner with UH Mānoa to develop a sustainable pathway for skill development and career opportunities in Hawaiʻi," said Ed Lallier, co-founder and chief revenue officer at Vanta. "UH Mānoa's esports program is rated as the nation's best and we cannot be happier to collaborate with them to develop meaningful programs that extend learning of esports beyond the classroom and into the workforce."
UH Esports receives substantial funding from the Academy for Creative Media System. Visit the UH Esports team's Twitter and Discord pages. More stories on UH's esports program.