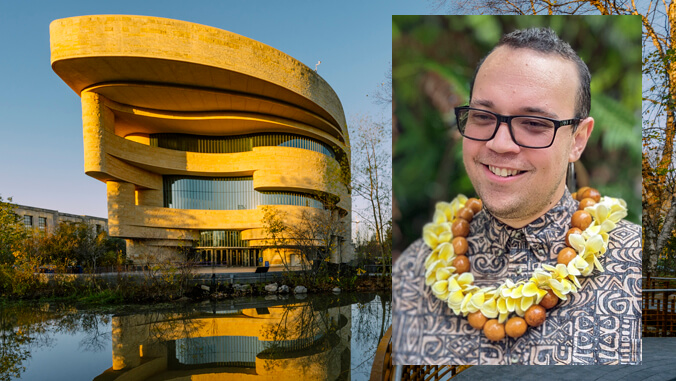 In a first for the Smithsonian's National Museum of the American Indian (NMAI), Halena Kapuni-Reynolds, a PhD candidate in the Department of American Studies at the University of Hawaiʻi at Mānoa, has been appointed associate curator for Native Hawaiian history and culture.
Although the museum's physical location is in Washington, D.C., Kapuni-Reynolds will continue to reside and work from Hawaiʻi Island. His supervisor Michelle Delaney, assistant director for history and culture, wrote the grant proposal for the nascent Native Hawaiian associate curator position to be community focused and 100% remote.
"We are thrilled to have Halena join the NMAI team and welcome the increased emphasis on Native Hawaiian cultural research and programming which will be developed over time," Delaney said.
Kanaka
ʻŌiwi

scholar

Kapuni-Reynolds is a Kanaka ʻŌiwi (Native Hawaiian) composer and scholar, born on Hawaiʻi Island and raised in Keaukaha. He holds a BA in anthropology and Hawaiian studies from UH Hilo (2013) and an MA in anthropology with a focus on museum and heritage studies from the University of Denver (2015). His master's thesis, "Curating Aliʻi Collections: Responsibility, Sensibility, and Contextualization in Hawaiʻi-Based Museums," analyzed the ways in which aliʻi (Hawaiian chiefly) collections are cared for and exhibited at the Bernice Pauahi Bishop Museum and the Lyman House Memorial Museum.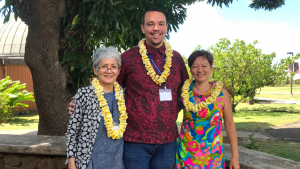 Prior to joining NMAI, Kapuni-Reynolds served as a graduate assistant for the Museum Studies Graduate Certificate Program at UH Mānoa, where he worked collaboratively with faculty members to organize conversations and events around museum decolonization and Indigenization. In 2022, he assisted in the development and implementation of Weaving a Net(work) of Care: A Native Hawaiian and Pacific Islander Museum Institute, a museological training program for individuals in Hawaiʻi and across the Pacific, funded by the National Endowment for the Humanities.
"When I was an undergraduate at the University of Hawaiʻi at Hilo, I majored in anthropology and Hawaiian studies, took an array of courses focused on Hawaiian language, community-based archaeology and ethnohistorical research, and participated in numerous internships across East Hawaiʻi. These experiences continue to inform my education at UH-Mānoa as an American Studies graduate student, where I have taken courses in museum studies, Indigenous studies, diasporic literatures, and U.S. history, culture, and politics," Kapuni-Reynolds said. "I am grateful to the UH faculty and staff members who continue to support my intellectual and personal growth over the past 15 years."
Community outreach and programming
Kapuni-Reynold's new duties include performing professional curatorial work associated with research, exhibits planning and development, collections review, collections development and information, community outreach, public programming, education and public service functions.
This includes research for the Smithsonian Folklife Festival in 2024, specifically how to include participants from Hawaiʻi to perform and share on the National Mall. He will also be developing new programming for the NMAI across the state. A traveling banner show on Hawaiian sovereignty may also be in his future.
In addition to these responsibilities, Kapuni-Reynolds is finishing his dissertation, which tells a decolonial story of the ʻāina aloha (beloved lands) of Keaukaha. Delaney said she hopes he will publish it with the NMAI.