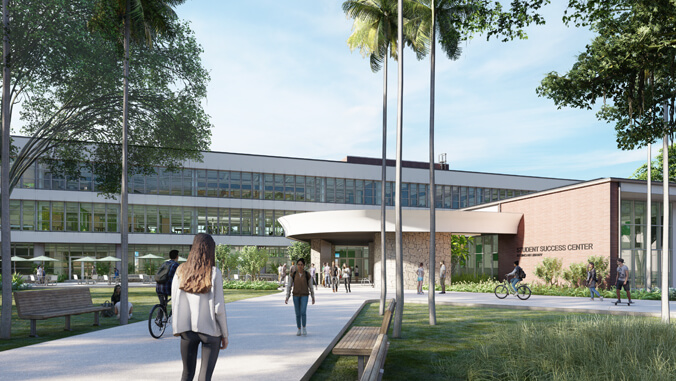 A $57-million renovation of a University of Hawaiʻi at Mānoa library built in 1956 will transform the four-story, 115,000-square-foot building into a state-of-the-art Student Success Center. Work on the major renovation project began in June 2023 and is expected to be completed in time for the start of the fall 2025 semester.
The Student Success Center will be a vibrant hub of student activity that will encourage students to stay on campus, between classes and after hours. Three floors of the air conditioned building will be open space for student gathering, studying and socializing with comfortable seating, tables and ample electrical outlets. There will also be more than 30 conference rooms of various sizes for group study along with on-site academic advising departments, a computer lab and Student Store for food and beverages.
"This state-of-the-art center will have a significant impact on the student experience at UH Mānoa," said UH Mānoa Provost Michael Bruno, an early champion of the project. "It will be very exciting when it opens as students will have a brand new facility where they can study, collaborate, learn from one another, take advantage of convenient academic services, grab a coffee and just be with each other."
The Student Success Center will be located next to Hemenway Hall, close to the Campus Center and the Warrior Recreation Center. It is also next to the campus's main city bus stop and right across University Avenue from the Residences for Innovative Student Entrepreneurs, the entrepreneurship center/student housing facility opening in fall 2023.
"We really want to create an environment and a place where students can thrive, and I think that's really what is most important for us in this collaboration," said Aaron Yamasaki, vice president division manager at Swinerton Builders, the Design Builder. "This is Hawaiʻi's university and we want to make this great school even better and this project will do just that."
The project includes a rooftop photovoltaic system to generate renewable energy and help as the renovation project strives to be LEED Silver certified. A modest step towards meeting the 10-campus systemʻs goal of zero carbon emissions by 2035.
The center will house the College of Social Sciences Digital Studios and feature a large study space on the first floor that can host and livestream campus events.
It will also be the new home of the award winning UH Mānoa Esports team. The team will have a modern gaming room to practice, compete and livestream competitions to the world. There will also be facilities for casual gaming available to all students.
Mahalo UH Mānoa Library
The building became available for the renovation project after the UH Mānoa Library agreed to relocate staff and materials in the now closed Sinclair Library to Hamilton Library.
"They embraced the challenge and worked with multiple academic units reviewing and assessing the materials," said Bruno about the library's leadership and staff. "We could not have done this without their cooperation."
Building on success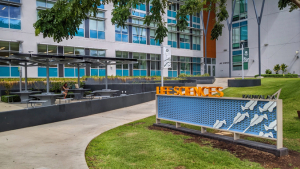 The UH Office of Project Delivery is responsible for the project and for making sure it finishes on time and on budget. The office oversees Capital Improvement Projects large and small, including the Isabella Aiona Abbott Life Sciences Building that opened in 2020 and the expansion of the Clarence T.C. Ching Athletics Complex.
"A center for students was identified as one of the campus's biggest needs and now it is our responsibility to turn that idea into a reality," said Brandon Shima, Design Manager for the Office of Project Delivery.
Like the Abbott Life Sciences Building, the Student Success Center is a design-build project, where there is a fixed sum, single contract for the design and construction. Design-build projects are more likely to be completed on time and with fewer cost overruns, compared to the typical design-bid-build process. It is one of the many national best practices for capital improvement projects adopted by UH along with hiring highly qualified project managers and construction procurement specialists.
Read more about the UH Mānoa RISE center.
To apply, visit the RISE website.
"We need to demonstrate to the State of Hawaiʻi that every dollar invested in UH will be spent efficiently and effectively," said UH Vice President for Administration Jan Gouveia. "We thank the state Legislature and the governor's office for its support and know that we have to continue to prove that university projects are worth funding."
Following the 6-year CIP plan
The Abbott Life Sciences Building and the Student Success Center were among the goals in the 2016 6-year CIP plan approved by the UH Board of Regents. The plan continues to deliver on many of its stated goals including a new $70-million, five-story facility planned for McCarthy Mall. The building will feature modern classroom and work spaces with construction scheduled to begin in 2024. The BOR approved a new 6-year CIP plan in November 2022 that aims to build on the previous plan and create more modern space-efficient facilities and outdoor spaces that leverage UH Mānoa's unique sense of place.
Read more about the Sinclair student success center in UH News