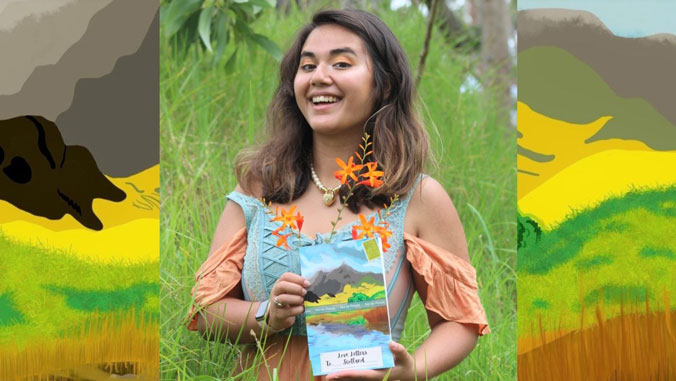 Taylor "Uʻi" Barongan, a biology major at the University of Hawaiʻi at Hilo, who received a highly competitive U.S. Department of State scholarship in 2021 to fund studies at a Scottish university that year, is publishing a book this month of her original poems and watercolors documenting the environment of Scotland. Love Letters to Scotland is independently published and will be available on Amazon, June 30.
Barongan, a senior at UH Hilo, attended the University of Stirling in fall 2021, where she studied ecology, cellular biology and film analysis. Barongan was unable to attend classes in person in Scotland because of COVID-19 restrictions for students. But she traveled to Scotland anyway, as a tourist, experiencing the culture, hiking, exploring and enjoying the outdoors.
Barongan said she's more of an artist than a scientist, and she recorded her extracurricular explorations through painting watercolors of the landscapes, animals and plants she saw in Scotland's environment. As part of the service project for her U.S. Department of State Benjamin A. Gilman International Scholarship, she spent the last two years creating the book.
"It also features some history and information about places and species," Barongan said, adding that the book is essentially a little guide but also her "love letter" to those places.
Barongan, currently editor-in-chief at the UH Hilo's art and literary magazine Kanilehua and a peer mentor at the university's mentoring program Ka Pouhana, is very active in undergraduate scientific research along with a wide variety of arts including photography, music, writing and painting.
For the full story check out UH Hilo Stories.