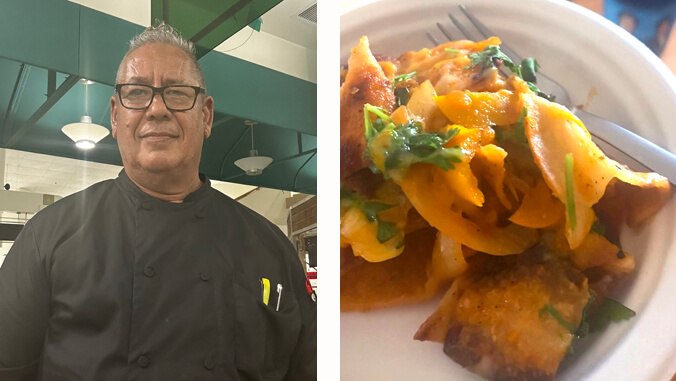 The holiday season is here, and UH News is asking members of the University of Hawaiʻi ʻohana to share their favorite recipes. The hope is these recipes and the short stories that accompany them will give everyone some ideas for eats throughout the holidays.
Chef Richard Ramirez, catering manager at UH Maui College, shared his recipe for chilaquiles, a traditional Mexican breakfast dish. He said his grandmother and mother made it for him and his siblings for as long as he can remember.
Check out holiday recipes from previous years
"It was a quick dish to put together for the holidays, filling our family's hearts as well as our tummies," Ramirez said. "Chilaquiles is one of those simple dishes that doesn't cost a lot of money, yet it feeds the soul. And the green and red colors always remind me of the holidays!
"Now, it is a dish that I make for my own children; and maybe they will one day pass it on to their own," he said.
Ingredients
1 dozen corn tortillas, cut into squares/triangles
1 cup salad oil for frying
1 tsp. chili powder
½ ea. green bell pepper, sliced
½ ea. red bell pepper, sliced
1 ea. maui onion, sliced
½ ea. jalapeno, seeded and chopped
1 ea. tomato, local, large dice
3 ea. garlic cloves, peeled and minced
1 can chicken broth
1 cup Monterey Jack cheese, shredded
½ cup cilantro, chopped
Salt and pepper to taste
Directions
In a large heavy-duty pan, heat oil and fry tortillas in small batches. Don't be afraid to give the tortillas some nice color.
Transfer tortillas to a plate with paper towels to drain.
Season with salt, pepper,and chili powder.
In the same pan, add all vegetables and cook until soft.
Add tortillas back to the pan with vegetables.
Add chicken stock. When it comes to a boil, add cheese and cover.
Turn heat down to low. Dish is done when the cheese is melted.
Transfer to a large serving bowl and garnish with cilantro.
You can also top with fried eggs for a great holiday breakfast.