Frances Davis Award for Undergraduate Teaching 2002-2006 Award Recipients
Davis Award Winner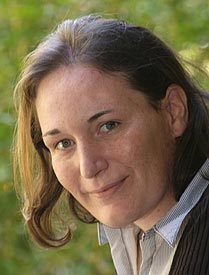 Amy Donahue
Manoa
A doctoral candidate in philosophy and teaching assistant at Manoa, Amy Donahue has taught several introductory philosophy courses and proved to be a stellar teacher. Donahue's passion for philosophy enables her to challenge her students and provide them with tools to analyze and critique their beliefs and actions.
Her professor notes, "Her innovativeness of approach, analytical acumen, connecting the philosophical material to be taught with personal moral and political commitment and sheer dedication to the job, set standards that even we senior and seasoned teachers can emulate."
The Frances Davis Award for Undergraduate Teaching recognizes dedication and demonstrated excellence as teachers of undergraduate students. It was established as a memorial to the late Frances Davis, who taught mathematics at Leeward Community College and UH Manoa for 19 years.
Select a recipient for more about that individual, or view the most recent winners.
2006
2005
2004
2003
2002