Six University of Hawaiʻi teachers have been recognized with the Frances Davis Award for Excellence in Undergraduate Teaching—Beau Ewan, Patricia Hensley, Taurie Kinoshita, Emi Murayama, Laura Nagle and Rain Wright.
This award recognizes dedication and demonstrated excellence of teachers of undergraduate students. It was established as a memorial to the late Frances Davis, who taught mathematics at Leeward Community College and UH Mānoa for 19 years.
Beau Ewan
Instructor, languages, linguistics and literature, Kapiʻolani CC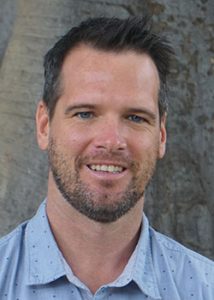 Beau Ewan of the Department of Languages, Linguistics and Literature teaches English, and his enjoyment for teaching is readily apparent. He is described as engaging, challenging and therefore empowering in his writing assignments.
Being a prolific and published writer, Ewan insists that his students be clear in their thinking by rising above complex information and ideas in order to depict and discern the nuances between thinking and writing.
Ewan loves the outdoors. When not teaching, he makes time for surfing. He says he relocated to Hawaiʻi for the waves, but stayed for the people. Ewan enjoys the diversity found in the islands, and feels especially grateful for the support of his colleagues and the opportunities he has been given to apply his personal and pedagogical investment in writing towards helping students with their own self-discovery.
Patricia Hensley
Assistant Professor, nursing, UH Hilo
Patricia Hensley has earned a reputation with her students as a dedicated nurse, educator and student advocate with a passion for teaching. Her goal is to provide students with a high-quality learning experience that will take them to the top level of professionalism and practice.
Hensley works tirelessly to make complicated subjects easier to grasp by utilizing a variety of teaching methods, including study aids, critical-thinking exercises and hands-on activities. She can often be found during the evening hours in the nursing lab, patiently coaching students through complex procedures while nurturing their confidence and growth as professionals.
She sets high expectations for her students, and they respond by putting in the extra time and effort required to become the best possible nurses they can be. Her hard work and dedication sets an example that makes Hensley the quintessential educator and the epitome of what the education system needs.
Taurie Kinoshita
Lecturer, theatre, Windward CC
Taurie Kinoshita lectures in theatre at Windward CC. She is a professional theatrical director and teacher with more than 80 critically acclaimed productions in London, New York and Honolulu.
She has worked for the renowned Living Theatre Company in NYC with the legendary Judith Malina and has also taught at the East 15 Acting School, University of Essex and the University of Phoenix. Kinoshita received the Lucie Bentley Award for Excellence in Acting and the Inouye Award for Excellence in Playwriting, and has accepted multiple Poʻokela Awards for directing by the Hawaiʻi State Theatre Council.
Most recently, Kinoshita was recognized with the Excellence in Teaching Award from the Kennedy Center American College Theater Festival. The award recognizes her "valued service to students as an educator and mentor." She is also a volunteer board member of Kumu Kahua Theatre. Kinoshita holds a master in fine arts in directing (Western theatre) and a bachelor's degree in theatre from UH Mānoa.
Emi Murayama
Instructor, College of Languages, Linguistics and Literature-East Asian Languages and Literatures, UH Mānoa
Emi Murayama is an instructor in the Department of East Asian Languages and Literature. She sees the classroom as a dynamic space for collaboration in which students are contributors, teachers are learners, and learning is ongoing.
Murayama's research focuses on business environments, and the practices are easily adaptable to other environments. In this respect, it has had an important impact on the development of the new curriculum in Japanese, in which teaching pragmatics is a key element.
Her colleagues praise her impact on the curriculum as an experienced teacher with an exceptionally wide range of courses. She is a main contributor of unique and innovative new textbooks for the curriculum, which will impact Japanese programs at other universities beyond UH Mānoa. Students credit Murayama for their academic success because she generates in them a transformation from passive to active, inquisitive and engaged learners.
Laura Nagle
Associate Professor, English, UH Maui College
Laura Nagle, an associate professor in English, is deeply passionate about teaching and gives confidence to all of her students by empowering them and creating an atmosphere of enjoyable learning. Nagle believes that all students have strengths and talents and that her role is to provide the guidance in facilitating and accentuating those traits to achieve personal and professional success.
One of her former students who is also a current employee at UH Maui College, Corinne Morton, shared that she had not attended school in 35 years when she was enrolled in Nagle's writing class, and Nagle was a highly impactful teacher in helping her achieve a successful return to school. She described Nagle as having a "positive energy, aura and attitude" and also shared that Nagle "never gave up on me when I thought about quitting." Even though she had not written essays in years, Nagle "helped me grasp what she was teaching, focused on my weaknesses, and helped me succeed in the class."
Nagle exemplifies the qualities of an educator who lives and breathes excitement, intelligence and integrity.
Rain Wright
Graduate Assistant, English, UH Mānoa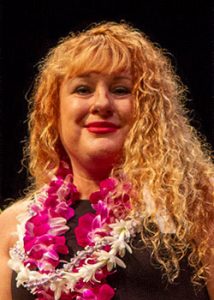 Rain Wright is a PhD candidate in the Department of English. She practices her belief in writing as discovery to embolden her students to intellectual curiosity. Wright encourages students to question everything; the classroom is a space where students are inspired to respond from various points of view.
She contends that students bring knowledge into the classroom through their lived experiences and stories, which expand class discussions. Wright finds that writing permits students to access a sense of intellectual imagination that emphasizes process-based pedagogies and the significance of re-framing preconceived notions of reading and writing.
Wright makes it a practice to voice the benefits of the creative writing and reading exercises she brings to the classroom. This practice allows students to comprehend her teaching methods, further motivating them and contributing to their intellectual growth as a whole.