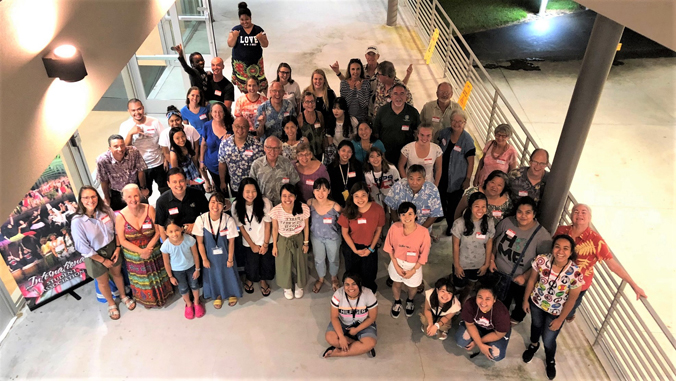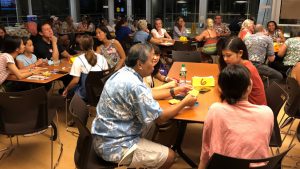 Nearly 100 new international students enrolled at the University of Hawaiʻi at Hilo in the fall 2018 semester were welcomed to their new island home by host families at a reception held on campus.
The Host Family Program matches international students with local families to help them adjust to their new life in Hawaiʻi and develop a sense of ʻohana in Hilo.
"It's a way for new students not only to become part of the local community beyond the campus, but for families to learn more about other cultures and countries," said Jim Mellon, director of International Student Services. "The program builds bridges between the campus and the community, and between cultures and nations."
UH Hilo has joined Welcoming America and hundreds of communities nationwide in assisting the assimilation of international students and scholars, immigrants and refugees through activities such as the Host Family Program. A welcome party for new and returning international students, and a buddy program that pairs new international students with an American friend, are among the campus' activities.
"These events are part of a powerful and growing movement in our country and around the world demonstrating that communities want to be welcoming," said Rachel Peric, executive director of Welcoming America. "At a time of rising anti-immigrant rhetoric and policies that hurt families, Welcoming Week is a reminder of the resilient and inclusive spirit of American communities."