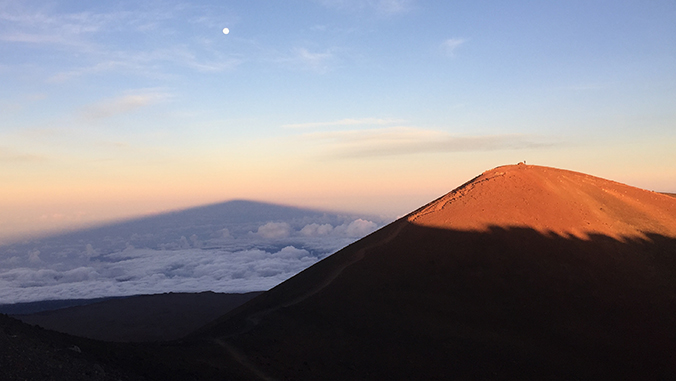 The University of Hawaiʻi Board of Regents (BOR) today approved the appointments of six members of the community-based Maunakea Management Board (MKMB)—Roberta Chu, Julie Leialoha, Kepā Maly, Alapaki Nahale-a, Doug Simons and Barry Taniguchi.
The Mauna Kea Science Reserve Master Plan, approved by the BOR in June 2000, established MKMB, which is comprised of seven voting members representing the Hawaiʻi Island community. The UH Hilo chancellor submits his/her recommendations for MKMB membership to the BOR for its consideration and approval. The two BOR members from Hawaiʻi Island also serve on the MKMB in a non-voting, ex-officio capacity. MKMBʻs current chair is Greg Chun.
New MKMB member biographies
Roberta Chu is a fifth-generation Hilo resident, graduate of Hilo High School and Mount Holyoke College in Massachusetts. She currently serves as senior vice president and manager of Bank of Hawaiʻi's Hawaiʻi Island Commercial Banking Center.
Julie Leialoha has an extensive career in natural resource management that began with an internship while attending high school at Kamehameha Schools in the mid-1970s. She currently serves as a program/project coordinator for the Hawaiʻi Cooperative Studies Unit. She has served on multiple boards, including the Conservation Council for Hawaiʻi, Papahānaumokuākea Research Advisory Council, and Western Pacific Fisheries Management Council Native Hawaiian advisory group.
Kepā Maly is a Hilo resident who is principal of Kumu Pono Associates, LLC. He is a highly sought after and respected expert on historical and ethnographic studies who has served on many cultural heritage and natural resource management boards across the state.
Alapaki Nahale-a was born and raised in Hilo and is currently a senior director of regional strategies for Kamehameha Schools on Hawaiʻi Island. Prior to joining Kamehameha Schools, Nahale-a spent more than 20 years serving the community in a variety of roles including as the director and chairman of the Department of Hawaiian Home Lands Trust.
Doug Simons has been the executive director of the Canada-France-Hawaiʻi Telescope on Maunakea since 2012. He is an astronomy veteran in Hawaiʻi, having spent most of his professional career either observing with or working for various Maunakea observatories.
Barry Taniguchi has been the president of KTA Super Stores since 1989 and has been its chairman and chief executive officer since 2014. Taniguchi serves as chair of Community First, and is on the Hawaiʻi Island Economic Development Board, and the boards of the Public Schools of Hawaiʻi Foundation, Lyman House Memorial Museum, Pacific Tsunami Museum, and Valley Isle Produce, among others.