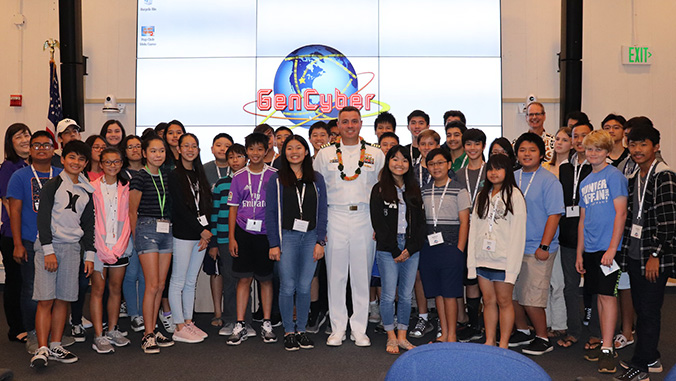 The University of Hawaiʻi helped train 170 students from across the state in cybersecurity in summer 2019. UH Information Technology Services, the Maui Economic Development Board, STEMworks and UH Community Colleges' advanced technology training consortium, the Pacific Center for Advanced Technology Training (PCATT), partnered in GenCyber Hawaiʻi 2019, providing enrichment opportunities to train the youngest generation of cybersecurity professionals and teachers through summer camps.
This year, seven GenCyber high school and middle school camps were held on Oʻahu at Honolulu Community College, Maui, Hawaiʻi Island, Molokaʻi and Kauaʻi.
"Over the past five years, GenCyber Hawaiʻi held 25 camps to train 701 teachers and 25 camps to train 683 students," said Steven Auerbach, director of PCATT. "GenCyber students currently are pursuing college computer science and cybersecurity programs and achieving industry recognized certification. Many received college scholarships and secured internships in cybersecurity."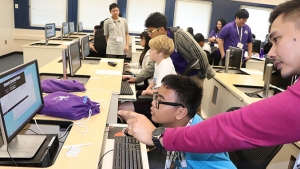 GenCyber camps are designed to be a fun part of the solution to a shortfall of skilled cybersecurity professionals. Ensuring that enough young people are inspired to direct their talents in this area is critical to the future of the country's national and economic security as there is more reliance on cyber-based technology.
Camps are free, and funding is provided jointly by the National Security Agency (NSA), the National Science Foundation and Information Systems Security Association's Hawaiʻi chapter. Participants learned about cyber hygiene, networking, coding, basic forensics, classical and modern cryptographic systems among many other cybersecurity related topics. They also learned about circuits, soldering and computing using Raspberry PIs and Microbits.
The camps culminated with a Capture-the-Flag hacking event where students used their newly acquired skills to hack and defend their way to victory. At the closing ceremony, participants and their families heard from the state's NSA commander, Captain Curt Mole, about careers in cybersecurity along with the importance of integrity, passion and resiliency, and the strategic need to cultivate cybersecurity professionals in Hawaiʻi.
Participants watched the CBS story, "Exclusive look inside NSA Hawaiʻi, the 'front lines' of intelligence gathering."
Through a mini career and education fair, parents and students learned more about career opportunities from employers including UH, Hawaiian Telcom, Booz Allen Hamilton, CIO Council of Hawaiʻi member companies and federal agencies.
The GenCyber program is a vital component of Hawaiʻi's Cybersecurity Education and Workforce Development Strategic plan which directly supports the UH's Hawaiʻi Graduation Initiative.
See the flickr album for more images from the GenCyber camps.