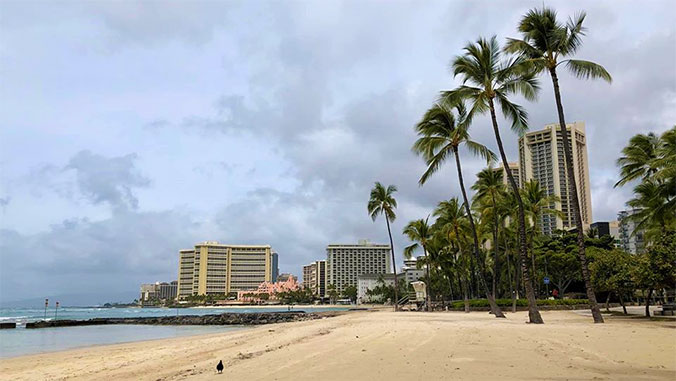 Update April 21, 2020: Sumner La Croix and Tim Brown discussed measures to control COVID-19 and steps to restore the economy in Hawaiʻi through an online webinar on April 20.
Original Story:
A new policy brief analyzes the next steps to control COVID-19 in Hawaiʻi and restore the economy.
Sumner La Croix, University of Hawaiʻi Economic Research Organization (UHERO) research fellow and professor emeritus of economics, and Tim Brown, East-West Center senior fellow, examined the state's efforts to control the coronavirus, studied the plan for testing, contact tracing and isolating, and looked at ways to reduce government-imposed restrictions and gradually reopen the economy.
La Croix and Brown acknowledged the state has taken two major steps to limit the spread of COVID-19 through restricting travel and quarantining all arriving passengers for 14 days, and government orders for all residents and visitors to remain at home and to practice social distancing.
The third step, which the authors said is the most challenging, is to expand testing, trace the contacts of those infected, enforce isolation and arrange care for ill and exposed people. The final step is for the state to gradually relax stay-at-home orders to allow for some economic activities to resume. However, this must be done with a strong monitoring system in place to avoid a COVID-19 resurgence.
La Croix and Brown said the non-tourism economy should resume first. A temporary measure as businesses resume operations may be to identify employees with positive coronavirus antibody tests (indicating that they have already recovered from an infection) and have them serve in jobs that require close contact with other workers or customers. The decision to resume tourism activities revolves around the availability of a coronavirus vaccine and if areas sending visitors to Hawaiʻi are able to conduct rapid-response antigen and antibody tests.
See the entire policy brief on UHERO's website.
—By Marc Arakaki