Hawaiʻi residents have long struggled with the elevated cost of housing and high rates of homelessness. The devastating economic fallout from the COVID-19 pandemic is now pressing more households to the edge. To help explore connections between poverty and housing policy, the University of Hawaiʻi at Mānoa Better Tomorrow Speaker Series will feature Pulitzer Prize-winning sociologist Matthew Desmond, a Princeton University professor.
The livestream interview, Hawaiʻi's Coming Covid Eviction Crisis and How to Stop It on July 28 at 9 a.m. will highlight what can be done to prevent a surge of evictions.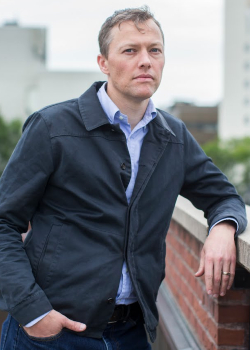 "Hawaiʻi is about to enter a time of unprecedented hardship for poor and low-income families. The state Legislature has done more than anyone could have hoped to help preserve housing stability, allocating $85 million in rental assistance. But that money has to be spent by January 1. Desmond's talk will present an opportunity for us to learn what else can be done to help families stay in their homes next month, next year, and for years to come," said Philip Garboden, Hawaiʻi Community Reinvestment Corporation professor in affordable housing, and assistant professor in UHERO and the Department of Urban and Regional Planning in the College of Social Sciences.
Garboden and UH Mānoa Public Policy Center Director Colin Moore will also be featured in the livestream. "Hawaiʻi's most vulnerable residents are facing an unprecedented housing crisis. We're fortunate to have Desmond, one of the world's top scholars on housing insecurity and eviction, join us to discuss how we can assure that all people in Hawaiʻi have a safe and affordable place to live," said Moore.
The livestream event is open to the public. Submit questions and register here.
During the COVID-19 pandemic, the Better Tomorrow Speaker Series has also hosted virtual forums that showcase the issues surrounding Black Lives Matter. On June 17, author, humanitarian and NFL Super Bowl champion Michael Bennett was a featured panelist in Reclaiming Humanity: Racism, Violence, Resistance, Love moderated by Department of American Studies Associate Professor Robert Perkinson.
For more on future events register on the UH Mānoa Better Tomorrow Speaker Series website.
—By Moanikeʻala Nabarro