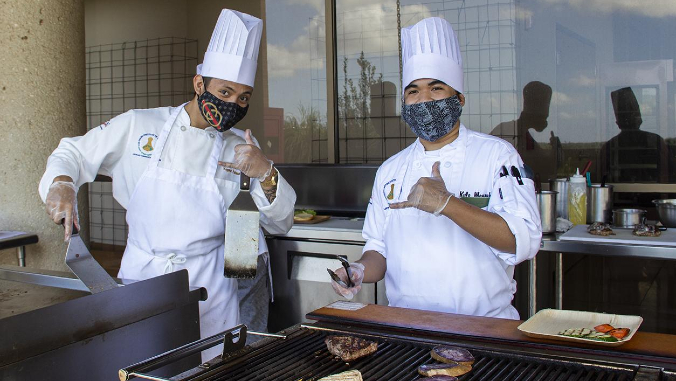 During the 2020 fall semester, a Leeward Community College culinary class cooked, packed and donated 30 meals a day for local non-profit Aloha Harvest to deliver to Oʻahu's hungry.
Leeward CC's Fundamentals of Cookery II class normally teaches students how to open and run a "short-order" restaurant and the food they make is sold to faculty, staff, students and the general public. However, due to COVID-19 restrictions, most students are taking classes online and the campus is closed to the public. Without the normal amount of business, Culinary Arts Assistant Professor Matthew Egami found other ways for students to practice these skills.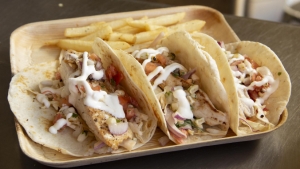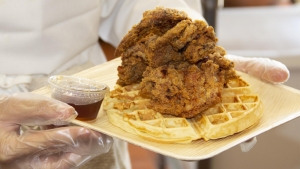 "We usually have a sufficient amount of repetitions for my students," said Egami. "Due to the closure of the campus to the public, I am using Aloha Harvest to replicate the number of orders I would normally take and instead of wasting the food, making sure that it goes to those in need."
Aloha Harvest has picked up approximately 300 meals from the culinary class over the course of the fall semester. The menu items consisted of burgers, sandwiches, breakfast items and local favorites. These meals were delivered directly to Child and Family Service, a non-profit organization whose mission is to strengthen families and foster the healthy development of children.
"This is a great example of a win-win-win situation where everyone involved benefits greatly from this unique partnership," said Phil Acosta, executive director of Aloha Harvest. "The students gain valuable experience in the kitchen, the non-profit organizations get some much-needed help, and Aloha Harvest is able to connect the food recipients with the freshly-prepared meals. We are extremely grateful for this opportunity, especially at this time when so many in the community are in need of assistance."
The partnership with Aloha Harvest continues through the end of the fall 2020 semester, with the hopes of extending into the spring.
Learn more about Leeward CC's culinary arts program online and follow them on Instagram.